Martin, TN – Four Austin Peay State University women's soccer players were honored at the 2013 Ohio Valley Conference postseason awards banquet, Wednesday, in the annual ceremony prior to the start of the OVC Tournament.
Seniors Tatiana and Natalia Ariza both found homes on the first-team, while fellow senior Andy Quiceno was a second-team honoree. Freshman Gina Fabbro earned a spot on the All-Newcomer team.
For Austin Peay, it's the fourth consecutive season at least three Lady Govs have earned postseason honors from the conference, as voted by head coaches and conference sports information directors. It's the fourth time that at least two Lady Govs have made their way onto the first-team ballot, and the third time that the Ariza sisters both wound up on the first team. Tara Tidwell and Monica Dunham in 2006 represented the Lady Govs other season with multiple first-team honorees.
Tatiana Ariza becomes the first four-time first-team all-conference honoree since Samford's Heather Birdsell (2004-07). The 2012 OVC Offensive Player of the Year leads the conference with 14 goals and 32 points entering play this weekend. Eight of Ariza's goals came during conference play, including a hat trick at Tennessee Tech, October 4th, that earned her OVC Player of the Week honors.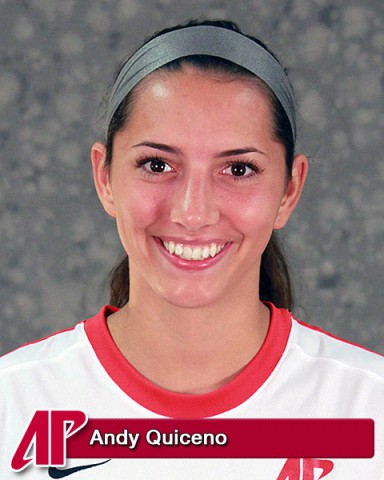 Austin Peay's all-time leader in goals (53), assists (24) and points (130), Tatiana now ranks second all-time in OVC history in points behind Eastern Illinois' Beth Liesen (149, 2000-03). Her 32-point tally in 2013 ties her 2012 total for second-most in Austin Peay history, while her 14 goals passed Ashley Beck's 2007 tally for second.
Her sister Natalia joins her as the only two Lady Govs to end their with four all-conference honors to their credit. This season, Natalia – who serves as a defender for the Colombian National Team – assumed more of that defensive role for the Lady Govs. Though she garnered two assists on the season, Ariza was an instrumental part of a Lady Govs defensive unit that allowed just 18 goals in 17 regular-season matches, playing 1,488 minutes – second-highest among Lady Govs.
After enjoying a sterling career that has her ranked third all-time in goals (15), second in assists (19) and third in points (49), Quiceno's second-team nod is her career's first postseason OVC honor. This season, the Houston, Texas native scored five goals and tied for the team lead with four assists, with much of her success coming in conference play; she's tied for fourth in the OVC in goals (four) and fifth in points (10) in conference games.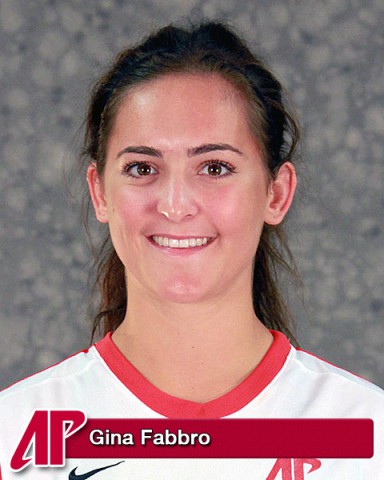 Fabbro, who joined the Lady Govs in the spring as a mid-year enrollee from Coquitlam, British Columbia, is the first Austin Peay player to earn All-Newcomer honors since Emily Perkins in 2011. She scored seven goals and assisted on three others in her first season in Clarksville, where she was Austin Peay's second-leading scorer. She tied Jessica Hosse (2004) and Ashley Beck (2005) for second-most goals by a freshman in APSU history.
Morehead State's Jade Flory was named OVC Offensive Player of the Year, while Southeast Missouri keeper Ashton Aubuchon, who the Lady Govs face Thursday night in the OVC Tournament's opening round, was named Defensive Player of the Year. Morehead State's Angela Black earned Freshman of the Year honors, while her coach, Warren Lipka, and Eastern Illinois' Jason Cherry were named Co-Coaches of the Year.
Sixth-seeded Austin Peay gets its OVC Tournament underway with a 7:00pm, Thursday, kick against third-seeded Southeast Missouri at Skyhawk Field.