Clarksville, TN – Center Tearra Banks notched the first double-double by a freshman since 2007 but it wasn't enough as Austin Peay State University women's basketball team dropped a 79-69 decision to Arkansas State, Friday night, at the Dunn Center.
Austin Peay (1-2) first had to survive a rough first half during which it faced a 10-point deficit and mounting foul trouble. Arkansas State built its 10-point advantage before the halfway mark of the period on Hanna Qedan's three-pointer.
The Lady Govs did not allow the lead to grow any larger and slowly chipped away at the deficit.
The Lady Govs finally countered with a half-ending 10-3 run, capped by sophomore Tiasha Gray's jumper with 32 seconds left to take a 36-35 lead into the break.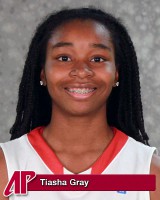 Austin Peay entered the break with three players saddled with three fouls each and 14 team fouls. Arkansas State generated 16 free throws off the fouls, but converted only seven times.
Austin Peay continued its burst after the halftime break, using a 14-3 run to build its own 10-point advantage, 49-39, less than six minutes into the frame. Gray scored seven points during the run which junior Kristen Stainback ended with three straight free throws.
Arkansas State (2-0) did not allow that lead to last long, tying the game at the 11:08 mark with 10 straight points. The Lady Govs countered minutes later with six straight points, including a three-pointer by senior Nicole Olszewski, to build a four-point, 61-57 lead with 7:04 left.
However, the Red Wolves responded with a decisive 11-1 run over the next 3:45 and led 68-62 with 3:45 remaining and would not be threatened the rest of the way.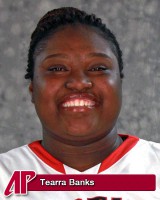 Banks finished with a 14-point, 11-rebound performance that was the first double-double by a Lady Govs freshman since Ashley Herring during the 2007 season. Meanwhile, Gray led the Lady Govs with 19 points on 6-of-21 shooting. Olszewski chipped in 14 points, five rebounds and five assists. Stainback added 11 points.
Jane Morrill led Arkansas State with 22 points on 8-of-13 shooting. Jalen O'Bannon added 13 points.
Austin Peay continues its five-game homestand with a 7:00pm, Monday contest against Trevecca.