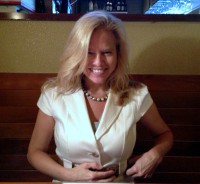 Nashville, TN – I've discovered another benefit of urban living in Downtown, Nashville: very cool neighbors.  Of course there are musicians and songwriters everywhere, and so when I passed my neighbor's door and often heard him belting out classic rock tunes, I took him to be a touring musician who fronted a band.
I don't know if what sealed that estimation was helped by the fact that he had long rocker-worthy hair, dressed in jeans and a T-shirt most days, and had this distinctively mellow yet baritone voice when he spoke going up and down on the elevator.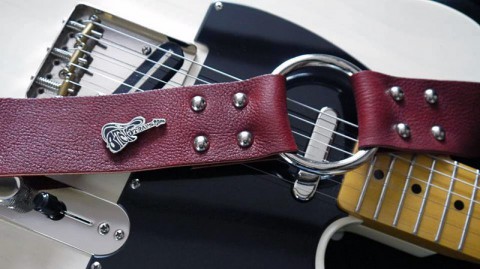 I carried on with my assumptions, but months later when we bumped into each other at the Downtown Y and he handed me his card, I found out that Jeff Bell was not spending his days touring with a band (though a band was definitely in his past—this is a Nashville story after all…) but that he's the Ford commercial guy!  
("Now get an F150 with 0% financing for 60 months at your local Ford dealer…
" and yes he will recite this to you on an elevator if you ask.)
You'll recognize it immediately, as well as some of his other high-profile work in the U.S. and abroad—depending on your radio and TV tastes—such as the show "Extreme 4×4 Power Block", Six Flags commercials, and MAV-TV's "Bikini All-Stars" which Jeff narrates with the dramatic, "movie trailer" version of his voice. (Hey, it has to be someone's job to describe beautiful models in bikinis!)
So I was right about one thing: his voice was the thing that jump-started his 30-year career as owner of Jeff Bell Voice Over, located just a couple blocks from our building (he has the luxury of walking to work and just about everywhere as I do) on  2nd Avenue–a bustling, touristy street lit up with twinkle lights year round and packed with bars, restaurants and and music venues.  (This is the same street where B.B. Kings and Wild Horse Saloon are located and it leads directly to Broadway.) But JBVO is just one of three successful businesses housed in the hip, upper-floor loft with low lighting and exposed brick walls.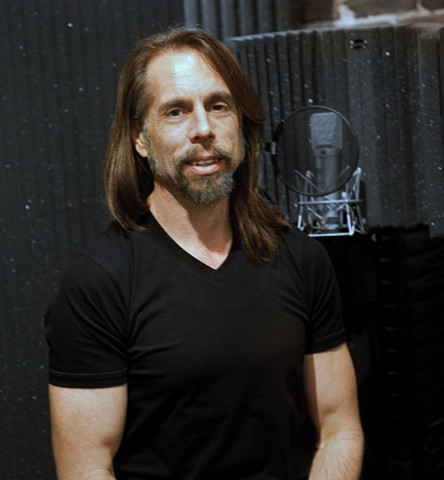 Jeff also owns the only recording studio in downtown, Nashville Song Studio, (most other studios are located on Music Row a few miles from the urban core) for which he boasts an "open-door" policy for visitors, as well as the operations for (shh don't tell my mother I'm saying this) Bitchstraps, an all-Tennessee, custom-made leather guitar strap and accessories business whose niche products are gaining popularity with musicians for their cutting-edge design and functionality.
In fact, The Voice TV star contestant, Cole Vosbury, is currently repping a Bitchstrap with his guitar on national TV.  All three of these businesses originated from the 49 year-olds' discovery that his unique voice (Jeff never remembers it cracking in adolescence – only getting deeper) might be a vital "instrument" for his future.
In 1983, one year after graduating high school, it led him to interview at the local radio station in the tiny town of Horseshoe Bend, Arkansas and directly into a gig as the morning DJ after the owner heard him speak.  Up until then he had no idea his voice was anything all that special.
"No one had ever told me, so I had no idea," said Jeff who could likely make reading a cereal box sound alluring.  It's a good thing because that first radio station was so small, (Horseshoe Bend's population is 2100) when I asked if he had "rip and read news"—radio jargon for newscasts that are read straight from the wire feed—Jeff  said that he literally read from the local newspaper for the ten-minute newscast at the top of the hour.
After over 30 years in radio and 17 years as the owner of JBVO, a business he began building on the side while spinning in the DJ seat, Jeff still remembers his first day on the air.  "I was terrified," he said.  "I was doing the weather report and remember saying there would be "blue sklies…" In person, Jeff is mellow and bears a chill vibe that seems to convey that nothing rattles him.  But he claims he never really got over his nerves on the air.  His deep baritone may sound confident, but he has never taken it for granted — even when he was resorting to reading obituaries from the Arkansas Gazette on the air.
As soon as he got started in radio and realized he had something good going, he began making demo tapes.  As Jeff puts it "people are always making audition tapes in radio because people are always getting fired in radio."  In a business where on any given day a familiar voice disappears from the airwaves, Jeff has counted living in over 15 different cities—his longest stint being with a Milwaukee classic rock station that he loved.  It was a station that went deep into "album rock" and eschewed the limited and cookie cutter radio playlist that many corporate radio stations employ.
At that point, he had found himself single parenting and his son Jared's school (he was 7 at the time) was right down the street from the radio station, along with Jared's Karate classes.  "My son grew up hanging out at the station with me after school," says Jeff of the now 25 year-old who works alongside him in the three businesses and can shred like a pro on any of the many guitars hanging in the studio.
Jeff's radio station days are filled with enough lively stories (too many to illustrate here though I wish I could) to make an engaging memoir.  One of the titles for such a book might be "I Was Delilah."  The rock-loving DJ was once found hosting "The Night Mix" on an Adult Contemporary station in Chicago – the largest city he had ever worked in, and a big move up in radio.  "I had no idea how I got that gig.  I knew nothing about the music of Adult Contemporary.  Twelve live phone lines would light up each night with lovers telling their stories and asking me to play a song for them."  Luckily Jeff's producer had his back.  "I'd ask him what the hell song we should play for a break-up, or an engagement, and he'd always help me out," Jeff recalls chuckling a bit at the memory of that one-year stint.
As Jeff's radio career took off, so did the demand for his vocal abilities.  Every client wanted "that voice" for commercials.  It wasn't long before he realized he could literally take his talent to the bank. While living in Phoenix and with a partner who is still with him today, he installed a booth in the closet of his house and would perform voiceover work during the day before going out to work as a disc jockey at night.
Once between jobs, Jeff was starting to run out of money when his agent called him to audition for Ford, which was clearly "big time" for a voiceover artist.  "I couldn't believe I got the job," he said.
That first year, Jeff made a decent amount of money for rolling sales and financing verbiage off his tongue.  "Some days I'd go to the mailbox and there'd be a check for $6000 out of the blue, even when the active work for them had slowed down."
Things just seem to happen with a little more than a small amount of serendipity for Jeff.  Just as things were getting slow with his business again, Ford called him back and the commercial work exploded and became his main source of income.  (Think of it as a whole lot of F150's and Expeditions being sold with the help of Jeff's voice.)
Serendipity had a hand in the founding of Bitchstraps as well.  While still living in Arizona in 2007, and with things going well with Ford, Jeff "got a little bored" one day and bought about $1000 of leather to tinker with.  "I had had an industrial art class in 6th grade where we worked with leather and I loved it.  I had always wanted to do something again with the material," he explained.
Most of the things he desired to make were things he wanted to use himself for his musical pursuits.  (Hey it's Nashville, so you knew we'd get to a music story at some point right?)
Jeff had started a Southern Rock band, "One Man's Trash," for which he was the lead singer and rhythm guitarist.  He found that the straps sold at regular music stores were less than desirable and a lot less than fashionable.  "I wanted fashion for musicians – fashion that guys could get into as well.  Women have great design available to them in clothing and accessories, but what do guys have?" he said.
The first thing I made just "messing around" was in the shape of a holster.  "I had no guns, so I thought what I am I going to do with this?"  The idea came to him that they would work great on a high-hat for drumsticks.
With Jeff being 6'1", he also found that most guitar straps were not easily adjustable.  He borrowed the concept of the ringed belt loop and integrated it into his designs so that a musician can simply adjust the strap while standing and playing.  It was a simple concept, but one that no one had thought of before, so he patented as his own and founded his company three years ago.
His son, Jared, naturally got in on the act. One Christmas break while most people were enjoying some rest for the holidays, father and son were found sitting at their kitchen table cutting leather to fill orders for friends and family.  That's when they knew they had to make the company a little more official.
The straps remain custom-designed by Jeff, but are now manufactured with all-Tennessee products and produced within the state.  He found a leather manufacturer, Manchester's Tennessee Tanning, that mulls the material until it is at a desired softness and pliable enough to create a strap many musicians crave.  When asked how important it was for Jeff to keep the product all in-state, he claims it was paramount.  But it wasn't easy.
"Too many goods are made outside the U.S. and there's a good reason for it.  It's damn hard to find local manufacturers who will do the custom work required for something like this."  He picks up a die cast tool and shows me how the leather is custom cut at Clark Leather, a facility he commissioned in Bolivar.  "This shop was willing to make the additions and adjustments in equipment for me in order to make the products."
What results are guitar straps and other accessories (such as drumstick holders, wireless holsters, harmonica, capo and slide holder attachments) like Vosbury wears on The Voice.  "How that came about was that I'd worked with relatives of Cole's in radio some years back.  When I heard he was on The Voice, I called them up and said 'let's get some straps on the kid,' and they said 'great!'"  Having Cole rep the leather creations has given the local company even more exposure.
Through word of mouth and the advertising assistance of Wendy Scott, who works for Jeff, other well-known groups have contacted Jeff to commission special pieces.  Recently, an all-girl group from Australia, The McClymonts, was about to go on tour and their manager called to say they needed something nice to hold their wireless mike receptors.  "I came into the studio and designed holsters to complement the dresses they wear for performances," explained Jeff, who isn't immune to designing with feminine fashion in mind.
And as for that Nashville music story?  Well, while Jeff originally moved his voiceover business to Nashville to further nurture "One Man's Trash"—which produced a critically acclaimed CD and received some airplay on country radio—they ended up playing a total of about three songs in public in Nashville and made a whopping $38.00 from it.  After all, Jeff confesses he only wanted the band to have some fun. "I'm completely OK with that, seeing how things turned out," he said.
For more information on Bitchstraps wholesale and retail locations, as well as to listen to a demo of Jeff Bell's voice work, check out the videos below.  And when you're in Downtown, Nashville, pay a visit to Jeff, Jared, and Wendy at 172 2nd Avenue, Suite 304 and check out the studios, as well as the deals on Bitchstrap accessories in their wholesale showroom – it's Christmas Eve and there's still a bit of time to shop!
JBVO 2013 TV Imaging Demo
JBVO Ford Demo