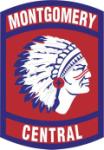 Dover, TN – Montgomery Central High School broke open a two-point halftime advantage over Northwest High School, December 27th at the Bill Craig Memorial Gymnasium in the first round of the Stewart County High School Christmas Tournament, as the Lady Indians outscoring the Lady Vikings 29-16 to pull away for a 56-41 victory.
Holding a slim 27-25 advantage after the first two quarters, Montgomery Central (5-4) opening the second half with a 13-1 run over the first 3:14 beginning with a traditional three-point play by Tori Moore – just 21 seconds into the second half – and ending with a bucket by Mallory Flake at the 4:46 mark.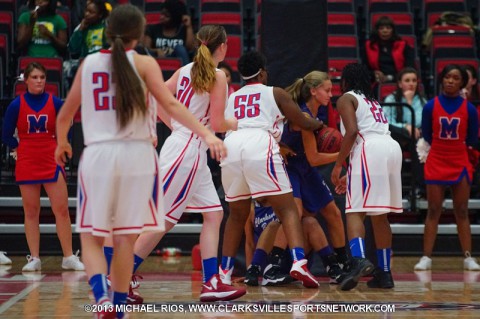 Mallory Flake would lead the Lady Indians with 14 points, while Moore added 12 points.
Also included in the run were 3s from Leslie Bradley and Moore – the first by the Lady Indians since the opening quarter.
Northwest (1-12) would get its offense untracked somewhat in the final half of the third quarter; scoring eight points in the final 4:22, but were only able to cut the deficit back to 10 points, 44-34, heading into the final eight minutes of play.
The final quarter would see the Lady Indians extend its lead out to 14 points, 48-34, following a basket by Bradley and two free throws by Monica Flake, but Northwest answered back with six straight points to make it an eight-point game, 48-40, with 4:32 left in the contest.
But that would be as close as the Lady Vikings would get the rest of the way, as Montgomery Central outscored Northwest 8-1 over the final 4:23 for the 56-41 final.
In the first half, Northwest took a 6-0 lead to open the game – including back-to-back buckets from Taylor Comeaux.
Comeaux led all scorers with 20 points.
Montgomery Central would hang around early on behind a couple of 3s from MaKayla Flake and Moore, and even take a brief lead, 10-9, before Northwest scored the final four points of the quarter to lead after the first eight minutes of play, 13-10.
Northwest had a chance to extend its lead early in the second quarter, but missed it first four free throw attempts in the second quarter – including the front ends of two one-and-ones – to allow the Lady Indians to retake the lead 15-13 following a basket by Mallory Flake with 5:31 left before intermission.
The two teams would go back-and-fourth the rest of the opening half, with four ties and four lead changes for the final 3:44, including for the final time with one seconds left – as Monica Flake hit a driving layup to give the Lady Indians the 27-25 halftime lead after it looked like the two teams would be tied following a bucket by Northwest's Alisha Dabney with nine seconds left before intermission.
Montgomery Central will now advance in the winner's bracket to face host Stewart County High School, December 28th at 7:30pm, while Northwest falls into the losers' bracket and faces White House High School, who lost to Clarksville High School 47-24 in an elimination game.
The tournament concludes December 3oth.
Box Score
Montgomery Central 56, Northwest 41
| | | | | | |
| --- | --- | --- | --- | --- | --- |
| | 1 | 2 | 3 | 4 | Final |
| Northwest Lady Vikings | 13 | 12 | 9 | 7 | 41 |
| Montgomery Central Lady Indians | 10 | 17 | 17 | 12 | 56 |
Montgomery Central: Leslie Bradley 5, MaKayla Flake 10, Tori Moore 12, Monica Flake 9, Kristin Ford 4, Mallory Flake 14, Shirece Lyle 2. Team totals 20 12-29 56.
Northwest: Alisha Dabney 4, Keya Ross 5, Alexis Walton 1, Taylor Comeaux 20, Jashia Huey 2, Taylor Senseney 8, Madeline Jones 1. Team totals 14 13-30 41.
3-point field goals: Montgomery Central 4 (Bradley 1, Moore 2, MaK. Flake 1), Northwest 0.
Records: Montgomery Central 5-4, Northwest 1-12.