Nashville, TN – It's just days to go to the 41st Nashville Heart Gala, the annual black-tie fundraiser supporting the mission of the American Heart Association fighting the No. 1 killer, heart disease, and its research, public health and community education programs.
The event takes place on February 1st at the Schermerhorn Symphony Center. The theme is "Ignite the Night" and décor will be in red and gold.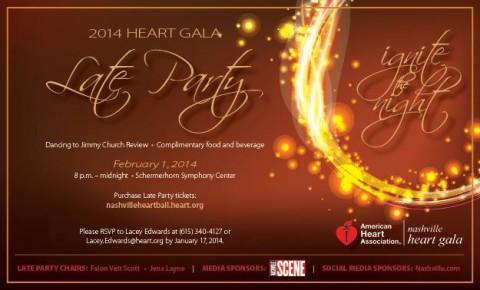 This year's chairs of the black tie event are Sharalena and Dick Miller, and Sheila and Nelson Shields. Marion Couch will be honored for her volunteer leadership. Top supporters include Saint Thomas Heart, TriStar Heart and Vanderbilt Heart.
Tickets to the Heart Gala are sold out, but you're invited to the Heart Gala Late Party, starting at 8:00pm at the Schermerhorn.
The Late Party includes an exclusive party area, food and beverage, valet parking, live music and dancing with the rest of the Gala guests. To purchase online, visit http://nashvilleheartball.heart.org. To purchase by phone, call 615.340.4127 this week.
It's a great way to "party with a heart" and support a great cause.
Heart Gala updates can be found on Facebook at www.facebook.com/AHAGreaterNashville, and on Twitter at @HeartNashville.