Carbondale, IL – The sprints paved the way for Austin Peay State University women's track and field team's second-place finish at the SIU Invitational, hosted by Southern Illinois, Saturday.
Austin Peay took runner-up honors for the second time in as many meets at the SIU Student Recreation Center, finishing with 140 points as a squad, behind only host Southern Illinois (189).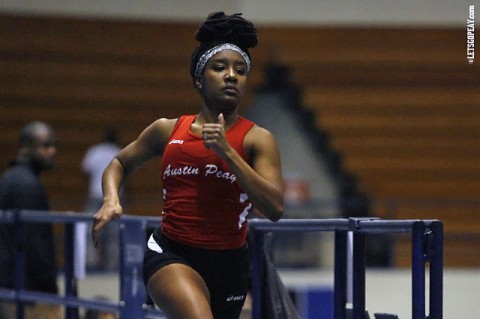 Along the way, the Lady Govs defeated a trio of Ohio Valley Conference schools in Southeast Missouri (third, 55 points), Murray State (fourth, 50 points) and Tennessee Tech (tied-10th, 4 points).
"Another solid weekend for us," said head coach Doug Molnar. "We had a number of personal season-bests. These guys work really hard and battle; can't say enough about the job our athletes and coaches have done."
The Lady Govs 400m runners swept the podium Saturday, with sophomore Breigh Jones taking top honors with a 57.46 mark. Hot on her heels was freshman Terri Morris, who was runner-up at 57.70, and sophomore Kymmalett Ross, who placed third at 58.22.
Junior Maikea Davis won the 200m event with a 24.80 mark, while junior Erika Adams was hard on heels at 25.47. Jones (fourth, 25.52) and Ross (fifth, 25.62) made it four Lady Govs in the top five of the 200m dash.
Ross, Jones, Davis and Morris were also the quartet that broke Austin Peay's 4x400m relay again. They posted a blistering 3:53.88 mark that won the event by nearly six seconds over Southern Illinois.
Adams, Ross and Davis also earned points in the 60m dash, with Adams taking runner-up at 7.65. Ross (7.78) was third while Davis (7.87) took sixth. Three different Lady Govs took second, third and sixth in the 60m hurdle event, with freshman Amia Butler (8.78) getting runner-up honors, followed closely by freshman Myiah Johnson (8.81) and junior Natalie Olberding (9.41) in sixth.
"Our hurdlers got us off to a great start," Molnar said. "Amia and Myiah got everybody fired up first thing and event after event, the girls kept after it and did a great job."
In longer running action, junior Jessica Gray was third in the 800m run at 2:18.54.
Two Lady Govs placed third and fourth in Saturday's triple jump, with freshman Kaylnn Pitts (11.63m) barely passing Butler (11.56m) for the podium spot. Freshman Brianna Kelly also placed third in the high jump at 1.63m.
In Friday action, a trio of freshmen jumpers placed top-six in the long jump. Chancis Jones (5.79m) took runner-up honors, with Butler (fourth, 5.55m) and Ashleigh Woods (sixth, 5.51m) also posting good showings.
The Lady Govs get a well-deserved break next weekend before returning to action Friday, February 21st in Columbus, Ohio at the Ohio State Tune-Up.