Clarksville, TN – Citizens transporting items, such as trash or branches, without securing their loads could face up to $1,000 in fines.
"Unsecured loads could lead to trash flying from vehicles, causing a danger to others driving on the road, not to mention dirtying up the roadways," said Sgt. Mike Leutert of the Montgomery County Sheriff's Office Environmental Enforcement Unit. "The Environmental Enforcement Unit at the Montgomery County Sheriff's Office, along with full support of the Bi-County Landfill, has been strongly committed to keeping our community clean and, in return, safer by enforcing Tennessee's litter laws."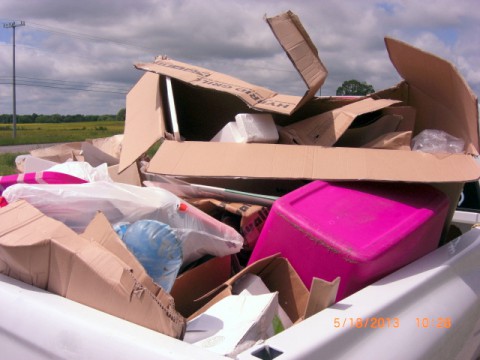 Nearly 70 percent of roadside litter comes from haulers, both commercial and residential, when transporting their trash, Leutert said.
"Tennessee State Law requires commercial haulers to transport garbage in a fully-enclosed space, securing their loads so that there is no way any debris can blow or fall onto the roadway," Leutert said.
The "Secure Load Law" used to be referred to as the "Tarp Law," but Leutert said tarps may not be needed to secure every load – straps may do the trick.
"The unit is often asked, when they are stopped for a violation, if anything had blown from their load, and usually nothing has, but an item doesn't have to blow off to be in violation," Leutert said. "If something does blow off, one could be charged with the Secure Load Law, Loose Material Law and Mitigated Criminal littering – these three violations could end up costing the violator up to $1,230 in fines and several hours of community service."
Leutert added that bags of trash, even if they are tied off, can be a violation if not secured.
"Bags are found frequently, and when they hit the roadway at 65 miles per hour, they make quite a mess," Leutert said. "We try to educate our citizens with this idea: If you are taking something to the landfill, transfer station or one of our centers, treat your load like you were transporting valuable antiques. This will ensure that you are following the law and keeping our community clean."
Photo Gallery
Shown are violations of the "Secure Load Law," photographed by Sgt. Mike Leutert of the Environmental Enforcement Unit.