Unit Routinely Called Upon for Rescues, Emergency Situations, Investigations Across Tennessee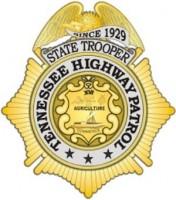 Nashville, TN – The Tennessee Highway Patrol's Aviation Unit recently trained for emergency rescue missions in the Great Smoky Mountains National Park with rangers from the National Park Service and the Tennessee State Parks, and first responders from across east Tennessee.
The training exercises, which took place in the Cades Cove area of the park, focused on air rescue and evacuation practices. The Tennessee Highway Patrol (THP) is the only state agency that operates helicopters in its aviation section.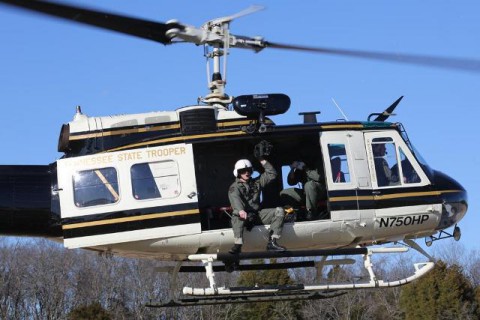 "Training is an important part of what we do. The THP's Aviation Unit is available statewide, 24 hours a day, 365 days a year, to assist local law enforcement and first responders with all types of rescue missions," Captain Bob Eckerman said. Eckerman oversees THP's Special Operations Section. "This specific training in the Smoky Mountains concentrated on safely and securely removing victims who may be trapped or stranded from dangerous conditions in mountainous terrain," Eckerman added.
Special Operations troopers, using the agency's Bell Huey UH1 helicopter, carried out exercises that involved many different scenarios that could potentially occur in the mountains. During one exercise, troopers secured a stranded and injured victim.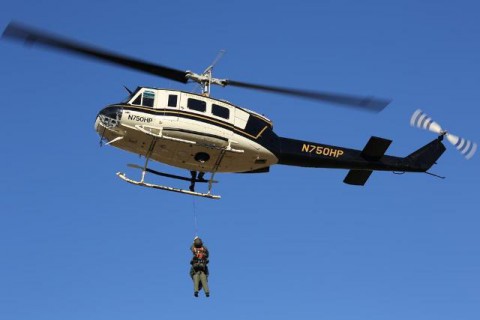 Another situation included a victim who had been incapacitated due to extreme weather conditions. During both exercises, troopers were lowered by hoist to the injured individuals on the ground and performed demonstrations on how to safely secure and remove them from the situations.
This type of training is standard for the Aviation Unit, which has been conducting rescue missions for years. In late 2012, the National Park Service requested the THP's assistance to rescue a missing hiker in the Smoky Mountains who had been stranded for several days in waist-deep snow. The successful rescue took approximately 45 minutes and included a 17-mile flight to the top of the mountain where the hiker was located.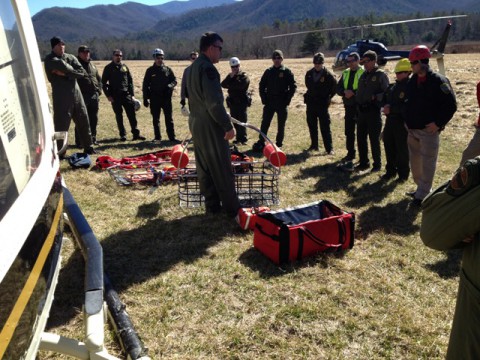 "Our Huey is based in Nashville, but can be deployed anywhere in the state within two hours," Lt. Brad Lund, a THP pilot, said. "This aircraft is not only used for air rescues, we utilize the Huey for tactical response duties, as well. It can carry a much larger load than the rest of our fleet, so it is ideal for both air rescue services and tactical operations," Lund said. Additionally, this helicopter has been utilized in relief efforts during natural disasters, delivering food, water and equipment to otherwise unreachable areas.
The Bell Huey is the only aircraft on the THP's fleet with the cargo capacity to be equipped with a motorized hoist used for lowering troopers and retrieving victims.
In addition to the Bell Huey, the THP operates four Bell Jet Ranger 206 helicopters. There is at least one helicopter and pilot based in each of the state's grand divisions, including Jackson, Nashville, and Fall Branch. Each helicopter in the fleet is equipped with LoJack Police Tracking Computers that track signals emitted from stolen vehicles.
The Jet Ranger helicopters also operate forward looking infrared cameras (FLIR). This equipment utilizes heat signatures on the ground to locate individuals. The Aviation Unit is routinely called upon to assist local law enforcement in finding suspects attempting to avoid apprehension and missing persons. In these situations, the pilots provide air support as they maintain radio communication with dispatchers and troopers on the ground during vehicle and foot pursuits.
"Our pilots are often referred to as 'guardian angels' by fellow troopers and local law enforcement partners," Eckerman stated.
The THP Aviation Unit is also part of the Governor's Marijuana Eradication Task Force. The pilots fly the Jet Ranger helicopters in search of illegal marijuana crops in remote locations across Tennessee. The pilots then guide law enforcement on the ground to the locations to take enforcement action. The THP uses the Bell Huey helicopter during Task Force operations when it is necessary to lower troopers into areas where marijuana crops are found.
"Our Aviation Unit is one of the best in the country and is routinely called upon to assist in all types of investigations and emergency situations. Local law enforcement and emergency response partners know they can count on the THP to assist," Colonel Tracy Trott said. "Our pilots and aircraft are real assets to the THP and help us provide greater public safety to the citizens of Tennessee," Trott added.
About the Tennessee Department of Safety and Homeland Security
The Tennessee Department of Safety and Homeland Security's (www.TN.Gov/safety) mission is to ensure that our state is a safe, secure place in which to live, work and travel; enforce the law with integrity; and provide customer-focused services professionally and efficiently.