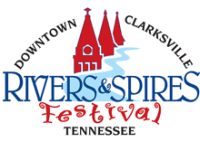 Clarksville, TN – The Rivers and Spires Festival has brought the streets of Historic Downtown Clarksville to life with a maze of family friendly activities, musical acts and one-of-a-kind entertainment for over a decade. This April 24th-26th will be no different, and it will be bigger and better than ever.
This annual, must-attend event has so much music and free fun packed into the three days that it is mind blowing that it costs absolutely nothing for you and your family to get in.

While free is great, the best part is what the Festival offers is sure to please everyone who makes their way downtown.
To make sure that happens this year, there have been several new and exciting events added for the young and the young-at-heart. Even the super competitive athletes have a zone designated just for them!
Make your way to the new Rivers and Spires Sports Zone. Situated in the parking lot at the corner of Third and Main Street, this fully interactive area will be chocked full of Austin Peay themed sports activities including football, baseball and golf. Test your skills or show off for your friends, all level of sports enthusiast are encouraged to stop by. Local high schools will be in on the action hosting mini clinics, and for the Zen crowd, a free yoga session from Raja Hot Yoga will be available on Friday night.
For the person who brings a tough mental game, a sports trivia night, hosted by The Gilroy, will be at 6:00pm on Saturday. The area will be rounded out with the Publix sponsored Cooking Stage where you can learn a few new healthy recipes and sample some good eats from the live demonstrations.
Not everyone gets their game on in a field. Some like to do it sitting behind a controller. And this year, the Festival is the place to be if you are an avid gamer! The Gig City Gaming area, presented by CDE Lightband, will be home to over 160 video games and consoles ranging from games of skill to multi-player games.
Set inside the underground parking garage on Franklin Street, between Second and Third Streets, the Gig City will start out with all ages welcome. As the day turns into night, the game ratings will get progressively more mature. Parents can stay in the know and be aware of the game's maturity ratings by signs on the street and online at www.riversandspires.com .
Part of the fun we bring to the streets of Downtown is the ability to sneak in some learning experiences too. But, in keeping with the theme of the weekend, we want them to be in a fun and interactive way, of course!
This year we will be bringing in the World Vision big rig and showing everyone how important water conservation is in Third World Countries. World Vision has been making a difference in children's lives for over 60 years and this interactive display can show everyone in your family how important it is to save resources. You will even learn some simple changes you can make that will make a big difference in the world!
The World Vision semi isn't the only one that you will see this year. Johnsonville Brats, yes, those delicious Johnsonville Brats you enjoy during the football game, will be bringing their Big Taste Grill to Historic Downtown Clarksville.
Follow your nose and you will find the World's Largest Touring Grill weighing a whopping 53,000 pounds and measuring 65 feet long. This giant grill can keep 12 grill masters busy cooking more than 750 brats at a time! Fortunately, for our 21 and up crowd, there will be plenty of Coors Light for sale to wash down those brats.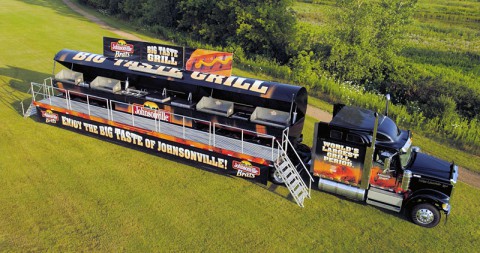 After you have shown off you sports skills, learned about helping the environment and stuffed your face with brats, take a minute to check out the Express Employment Clydesdales. The majestic horses, with hooves the size of dinner plates, can weigh nearly 2,000 pounds and stand 17-19 hands (or 6 feet tall) at their shoulder.
They are also no stranger to fame, these world-champion horses have been seen in multiple parades and even chauffeured the Duke and Duchess of Cambridge, Prince William and Princess Kate, during their visit to Calgary. So when you stop by Legion Street to visit the Clydesdales on Saturday, be sure to get your picture taken with these equine celebrities.
The Festival is no stranger to car shows, and there have been several that have graced the streets over the years. But in 2014, the parking lot at the corner of Second and Main Street will be lined with classic cars of yesteryear at the Chevy's on the Cumberland car show.
Both Friday and Saturday night, the show will be home to the coveted TriFive (55, 56, 57) era of the Chevrolet, as well as Corvettes that span several decades. Nearly 200 cars will be shown off including favorites such as the Bel Air, 150, 210 and Nomad. This area is sure to keep every gear head, and those who long for the decade of bobby socks, Sock Hops and Bobby Darin, happy and entertained.
While this is just a taste of all that will be on the streets in Historic Downtown Clarksville this April, these are just the newest attractions. If you want to plan your weekend and see the extensive entertainment line up, visit us online at riversandspires.com. The Festival can't wait to see you having fun April 24th-26th.
About the Rivers and Spires Festival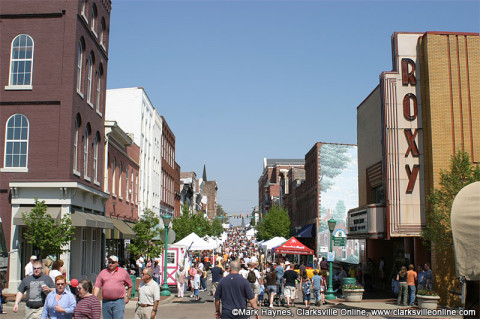 The 12th annual Rivers & Spires Festival will be held April 24th-26th, 2014 in Downtown Clarksville. This event has five stages of entertainment with over 100 entertainers performing all three days.
From children's activities, arts & crafts, car shows, military exhibits, shopping and so much more this is truly an event for the whole family. Admission to the Festival is free including all games, activities and concerts.
For more information about Rivers & Spires contact Jessica Goldberg at or visit us at www.riversandspires.com. Become a fan of us on Facebook or follow us on Twitter @RIVERSandSPIRES.