Effort to eliminate daylight savings time was turned back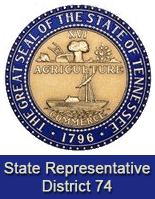 Nashville, TN – Despite suggestions this bill, had widespread support across Tennessee, the State Government Committee defeated this proposal to eliminate Daylight Savings Time in Tennessee.
During discussions on the bill, various legislators raised concerns about the impact on commerce in our state, in addition to creating unnecessary confusion. In order to appease critics, an amendment was offered that would have exempted East Tennessee from the proposal, which would have created a two hour time difference in certain parts of the state.
The bill was ultimately defeated.
Farmers can now grow Hemp Commercially
Hemp has been cultivated by  mankind as a source of fiber for thousands of years.  Industrial hemp can now be grown commercially by local farmers.  The bill also includes industrial hemp as a farm product under the right to farm presumed not to be a nuisance under such Act.
It will be subject to regulation by the Tennessee Department of Agriculture.
Medical Marijuana is gone for this year
A bill to allow medical marijuana failed in the Health subcommittee on a party-line vote. The bill would have allowed doctors to prescribe medical cannabis for medical conditions such as PTSD, HIV/AIDS, cancer and Lou Gehrig's disease.