Clarksville, TN – the Roxy regional theaters currently staging their production of the Victor Hugo Classic Les Misérables. Called Epic, grand and uplifting, Les Misérables has captured the hearts of audiences around the world with its powerful affirmation of the human spirit. The Musical is running through May 10th.
Will Sevier stars as the noble Jean Valjean, who has been released after 19 years of unjust imprisonment in pre-revolutionary France, only to find nothing in store for him but mistrust and mistreatment. Breaking his parole in hopes of starting a new life, he initiates a life-long struggle for redemption during which he is relentlessly pursued by police inspector Javert (played by Donald Groves), who refuses to believe criminals can change their ways.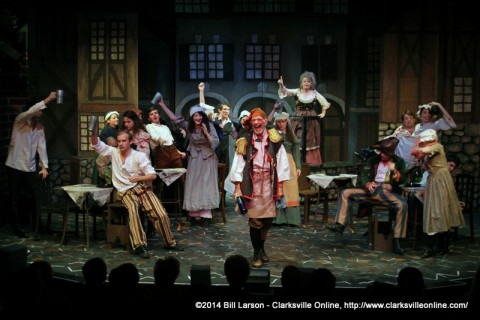 Featuring the largest cast ever assembled on the Roxy Regional Theatre stage, Les Misérables stars Ashley Harris as Fantine, Lisa Carter as Cosette, Hannah Rose DeFlumeri as Eponine, Collin O'Connor as Marius, Ryan Cupello as Enjolras, Jama Bowen as Madame Thenardier, John McDonald as Thenardier, Ted Jones as The Bishop of Digne, Riley Jenkins as Gavroche, Bella Cargill and Kylan Elizabeth Ritchie as Young Cosette, and Adianna Cervantes and Lucy Wilkinson as Young Eponine, along with Ryan Bowie, Laura Donnelly, Michelle Foletta, Ted Kitterman, Emily Rourke, Matthew Smolko and Zachary Spiegel. They are joined by local performers Gavin Alexandra Berlyak, Breanna Cox, Julio Iguina-Pascual, Truman Jepson, Angela Knowles, Ashley Knowles, Lauren Mund, Tamara Streng, Mindy Wedner. The show is directed and choreographed by Tom Thayer.
Attending the showing on Wednesday night, I was very impressed by the production. I had read the the novel, seen both the drama and the musical movie adaptations of the show, as well owning a copy of Les Misérables in Concert: The 25th Anniversary edition. You could say that I know this show like the back of my hand.  So believe me when I state that the Roxy's adaptation blew me away; The vocals were strong, I could easily have mistaken the live show, for a Broadway cast album. It is that good. I can't say enough good things about this cast. John McDonald and Tom Thayer always casts their shows spot on
John McDonald and Jama Bowen however brought a special magic to their portrayal of the Thenardiers as you can see in the photo gallery below. Master of the House has long been one of my favorite numbers from this show!
I also love when I get the opportunity to see amateur actors being given the chance to work with professional actors. In this case Kylan Elizabeth Ritchie portrayed young Cosette; Riley Jenkins was an excellent Gavroche.
The production was made possible in part through the generous support of Dr. Mark Green, Mark & Marcia Williams, Walter & Cindy Marczak, Phil & Jill Whittinghill, and The Riverview Inn. Additional funding support has been provided by Herb & Sallie Baggett, Dr. Ernest & Joan DeWald, James & Christa Holleman, Melissa A. Schaffner and Starlene Sykes.
Les Misérables runs March 28th through May 10th, playing Wednesdays and Thursdays at 7:00pm and Fridays and Saturdays at 8pm, with 2pm matinees on Saturday, April 5th and 19th. (There is no performance on Saturday, April 26th)
Tickets are $25.00 (adults) and $15.00 (ages 13 and under) and may be purchased online at www.roxyregionaltheatre.org, by phone at 931.645.7699, or at the theatre during regular box office hours (9am to 2pm, Monday through Friday, and one hour prior to curtain). Active-duty military, APSU students and CitySaver coupon holders can receive two tickets for the price of one to Wednesday and Thursday performances.
 Photo Gallery