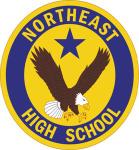 Clarksville, TN – The Northeast Eagles are one of nine teams participating in this season's Good Day to Play baseball tournament this weekend, hosted by Dickson County and Creek Wood High Schools.
The Eagles soared to an 8-2 victory over the Beech Buccaneers in the tournament Friday, April 18th. The took the lead by scoring two runs in the first inning. By the fourth they were up 5-2 and never looked back.
Northeast's Evan Frawley picked up his fifth win of the season. He pitched a complete game with three strike outs.
Beech's Jacob Grava got the loss, also pitching a complete game.
Devin Runkle had the hot bat, leading the Eagles offense with 3 RBI. He was one of three Eagles' batters with an RBI in the game. Runkle batted 2-for-3.
Ben Wilford hit 1-for-2 with 2 RBI and Luke Veltri went 1-for-3 with an RBI double.
Trevor Milliken had the only RBI for the Buccaneers. Milliken batted 1-for-2 with an RBI double.
The win improved the Eagles to 19-6-1. The Buccaneers fall to 12-13.
The tournament concludes Saturday, April 19th.
Box Score
| | | | | | | | | | | |
| --- | --- | --- | --- | --- | --- | --- | --- | --- | --- | --- |
| | 1 | 2 | 3 | 4 | 5 | 6 | 7 | R | H | E |
| Beech Buccaneers | 0 | 1 | 0 | 0 | 1 | 0 | 0 | 2 | 5 | 5 |
| Northeast Eagles | 2 | 0 | 1 | 2 | 0 | 3 | x | 8 | 7 | 4 |