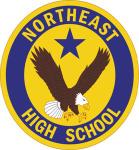 Clarksville, TN – As the last days of the high school baseball regular season count down, winning games becomes more crucial, especially against conference opponents. As a result, both the Kenwood Knights and the Northeast Eagles felt the pressure in their District 10-AAA face off at Northeast High School Tuesday, April 22nd.
An impressive pitching performance by Evan Frawley helped the Eagles rise to the occasion and defeat the Knights 4-1.
An error helped the Eagles score three runs in the first inning and Frawley kept the Knights from making up any ground. He pitched a complete game, allowing only one run from six hits.
Frawley struck out nine Knights and walked three. He improved to 6-1 for the season.
Frawley was backed up by solid defense. The Knights ended up leaving seven runners stranded in the game. Their only run came in the sixth inning. Austin Garner hit a solo shot 322 feet over the left field fence.
Kenwood's Joe Allen picked up the loss. He pitched a complete game, allowing 4 runs from two hits. Allen pitched a decent game. He struck out three and walked five. However, he did not get help from his defense once Eagles runners got on base.
The Knights were unable to control the Eagles runners and the first inning error put them in a hole they did not get out of. The Eagles runners made eight steals in the game, including one for a score.
Struck by a wild pitch, Eagles lead off hitter, Ben Wilford, took first base and promptly stole second in the bottom of the first inning. Wilford came all the way in when the next batter, Landon Dennis, beat the throw to first for a RBI single.
Later, Dennis stole second base. A high throw missed by the Knight's third baseman as Dennis stole third allowed Dennis to steal home as well.
Clayton Caskey picked up a RBI on a ground out to first for the Eagles final run in the first inning.
Devin Runkle hit a sac fly in the fourth that brought in Wilford again after he was walked and stole two bases to get in scoring position.
Dennis and Luke Veltri had the only hits for the Eagles in the game. Dennis batted 1-for-3 with a RBI. Veltri batted 1-for-2.
The win improves the Eagles to 20-9-1, 9-3 District 10-AAA. The Knights fall to 3-9 District 10-AAA.
Next, it will be Senior Night as the Eagles play Sycamore at home Thursday, April 24th.
Box Score
| | | | | | | | | | | |
| --- | --- | --- | --- | --- | --- | --- | --- | --- | --- | --- |
| | 1 | 2 | 3 | 4 | 5 | 6 | 7 | R | H | E |
| Kenwood Knights | 0 | 0 | 0 | 0 | 0 | 1 | 0 | 1 | 6 | 1 |
| Northeast Eagles | 3 | 0 | 0 | 0 | 1 | 0 | x | 4 | 2 | 0 |
Photo Gallery