Clarksville, TN – Ask anyone in the know about baseball or fastpitch softball and they will tell you one of, if not, the most physically and mentally demanding positions on the field is the catcher position.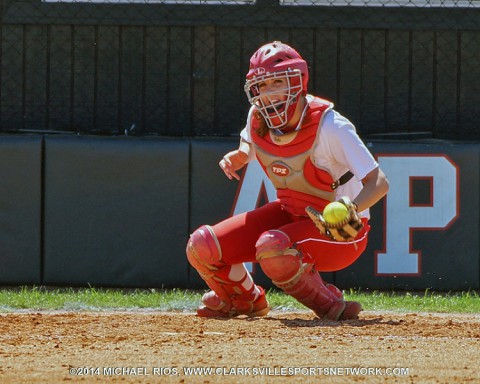 For the last two seasons, sophomore Mel Pavel has been 'the catcher' for the Austin Peay State University softball team, as she put together a string of 594 consecutive innings logged behind the plate over a span of 92 games.
"I love what I do being out on the field every day, I just eat it up," Pavel said. "I can't tell you how happy I am when I'm behind the plate. It's something that I've done since I was eight years old.
"I'm happy to be here (Austin Peay) playing softball, going to school to be a nurse and helping my team out."
Just how impressive a feat is that string of inning caught without a break?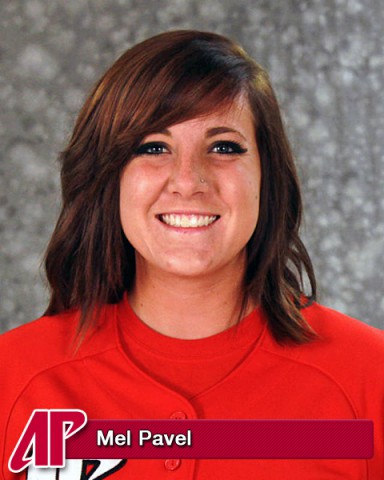 No other school in the OVC this season has had one catcher catch every inning of their respective team's games – much less two seasons — and no other APSU catcher has put together a run behind the plate like this since Jane Goodson back in the 1980's.
"When I was younger I tried the whole pitching stuff," Pavel said. "But when I was eight, I strapped on a pair of purple shin guards (for the first time) and it was just something about blocking (the ball) and being down there I knew that was what I wanted to do."
Unfortunately, the string of innings caught came to an end on April 26th, in the fourth inning of Game 2 of a doubleheader versus Ohio Valley Conference opponent Eastern Illinois University.
Pavel had to leave the game after being accidently kicked in the chin by Panthers Kaylie Pruett's medal cleats — on a bang, bang play at the plate – which opened up a pretty sizable gash on her chin.
Freshman Chandler Groves came in to replace her, becoming the first person other than Pavel to catch in a game for the Lady Govs since Amy Mills caught the May 5th, 2012 season finale.
"Sometimes you take a little bit of a beating back there," Pavel said. "But you have the (catcher's) gear on for a reason and I've been really lucky when it comes to injuries over my career. I've never really been hurt back there. The physical part, I take it as a challenge. It's fun, it's not a job."
Austin Peay concludes its 2014 regular season schedule on May 3rd and 4th, when they host the University of Tennessee Martin Skyhawks for a three-game OVC series at Cheryl Holt Field.
Look for Pavel; she'll probably be behind the plate starting another long string of innings caught.
"I know I say I love to play softball," she said. "But I'm trying to get people to understand that softball it's so much deeper to me than being just a game. I hope people see that when I play."