Clarksville, TN – The Annual Spring Fling sponsored by the Friends of Dunbar Cave was held May 10th and was a great success. Early showers sent the first presentation of Wings of SOAR and Duane Rice's discussion on eastern bluebirds inside the park's theater.
But once the weather cleared, well over a hundred patrons watched the second Wings of SOAR presentation and the Snakes and reptiles presentation by Donny and Sherry Howell.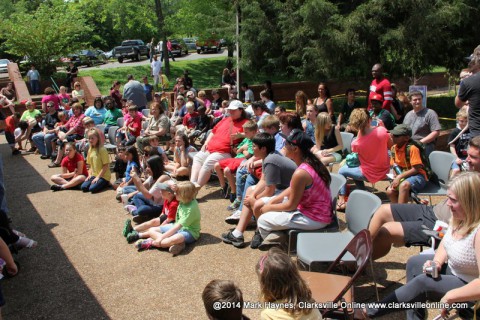 Wings to Soar is a non profit organization out of Trenton, GA. Co-directors Dale Kernahan and John Stokes do educational birds of prey programs throughout the United States.
Their mission is to educate people about the importance of not only birds of prey and predators in the wild, but also all living creatures in the wild.
They brought out 6 different birds of prey. They started off with an american kestrel, which is a small falcon. They then moved to a screech owl, bard owl, red tailed hawk, black vulture and a bald eagle. They did some free flying with these birds. They talked about where these birds live, what they eat in the wild, how they hunt, and their physical attributes that enables them to capture their prey in the wild.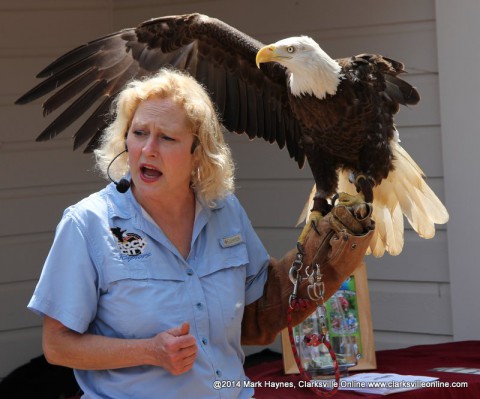 "We love coming to Dunbar Cave. We love the fact that Dunbar Cave is interested in nature as well and that they are all about education and connecting people to the wildlife. That's what Wings to Soar is all about, interconnection," stated Dale Kernahan. "We hope that the beauty of the birds really sparks people's curiosity and interest in nature."
Donny and Sherry Howell with Reptiliacs brought about 12 or so of their snakes to Spring Fling. Some of these are snakes that they own, some of them they bred and some of the snakes and a lizard are rescues that came to thier shelter.
"We brought the snakes down to show everybody that snakes aren't out to kill you, their pretty cool and to tell them alittle about why it's so important that they not be harmed out in nature because they do keep our rodent population down and protect us in that way. Some snakes will also eat other snakes, including venomous snakes," said Sherry Howell. "So their good to have around. Their not the creepy, crawling things people think they are. Their not slimy, their very dry. Very Friendly. Treat them with respect like any other animal."
The Friends had homemade delicious treats that went fast, as did the waters and sodas as the weather heated up.
The day ended with Swan Lake full of canoes. The Spring Fling is the only time canoes are allowed on Swan Lake.  Well over 60 people lined up to take advantage of this rare opportunity.
The Friends of Dunbar Cave is a nonprofit dedicated to the preservation of the Dunbar Cave State Natural Area, which is Clarksville's only state park.
For more information on the Friends of Dunbar Cave, visit their webstie at www.dunbarcave.org
For more information on Wings to Soar, visit www.soarsouth.org
For more information on Reptiliacs go to www.reptiliacs.com
Photo Gallery