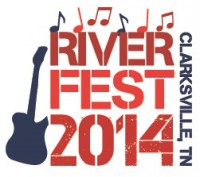 Clarksville, TN – At the City of Clarksville's July 3rd Independence Day celebration Mayor Kim McMillan gave the surprise announcement that the headliner for the 2014 Riverfest celebration would be country music superstar Tracy Lawrence.
Easily one of the most recognizable voices in Country music with songs such as "Paint Me A Birmingham," "Time Marches On," "Alibis," and "Find Out Who Your Friends Are." The entertainer has enjoyed twenty-two songs on the Billboard top ten charts with eighteen number one singles, selling over thirteen million albums.
The Multi-platinum CMA and ACM award winning recording artist has helped shape the sound of Country music for two decades, recently celebrating twenty-years in music. Few country artists have ever known the kind of success that Tracy Lawrence has earned and the influence his iconic voice has contributed to the Country music genre.
His music has inspired a whole new generation of entertainers and fans. Jason Aldean and Luke Bryan frequently pay tribute to the singer live in concert by playing his double-platinum hits like "Time Marches On" and Alibis." Songs that help make Lawrence among one of the most played artists on radio.
Lawrence's most recent album Headlights, Taillights And Radios carries a signature meaning for the artist. "Headlights" looking to the future; "Taillights" celebrating the past; and "Radios" a tribute to his success on radio. Reflecting on the creative process when recording Headlights, Taillights And Radios Lawrence knew that he needed to push the envelope and creativity to a new level. "When recording the new album it was a very different process than I had ever done before," said Lawrence. "We ended up recording the album in two parts, that's just how it worked out. I started recording in the direction to make a more traditional County record. But as time progressed, I needed to explore and challenge myself musically. I wanted to go deeper and try a more edgy and progressive sound that reflected where I was going next. The combination really worked well for me and I think it will appeal to many different types of County music fans."
Lawrence will close out the two day Festival with a free concert on Saturday, September 6th on the Budweiser stage at McGregor Park in Clarksville Tennessee.
About Riverfest
Riverfest is an annual two-day music and arts festival held in Clarksville, Tennessee along the banks of the Cumberland River. This totally free event features activities for kids of all ages and multiple stages of live entertainment. Other fun  activities include the Riverfest Regatta, Lighted Boat Parade, and much more! It's hard to beat two nights of free concerts with dozens of local, regional and national performers.  Tickets and wristbands may be purchased for food, beverages and inflatables.
For more information about the Riverfest Festival visit the City of Clarksville website.