Clarksville, TN – On Thursday, July 3rd, thousands of Clarksvillians made their way to Liberty Park for the City of Clarksville's seventh annual Independence Day Celebration. Attendees enjoyed live music, drinks, and food such as funnel cakes, hotdogs, and other festival favorites.
The evening got started with the presentation of the colors and  Staff Sergeant Scott Letourneau of the 160th Special Operations Aviation Regiment singing the National Anthem.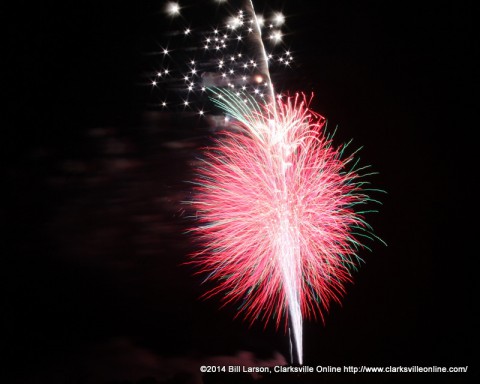 Musical entertainment was provided by local performers Eight O'Five Jive and the 101st Airborne Division rock band Cover Down. "This is great!," said Staff Sgt. Aaron Fast, the band leader when I asked him what he thought about the turn out. "We love coming out and playing for the public. There are thousands of people out here, and it's really really cool. We play for soldiers all the time but it's great to get out in the public and have a chance to play for a community that shows their support for Fort Campbell and the soldiers like Clarksville does."
"We make funnel cakes and fresh lemonade. We work really hard to make the best funnel cakes around. Best in the world," said Deborah Putman with B&B Concessions. "This is one of our favorite events. We love it. We've been to this event ever since it started and we always do well here. Liberty Park is a pretty place and we couldn't have asked for better weather."
I tried one of their funnel cakes and I have to say it was probably the best I've had in a long time. The fresh squeezed lemonade was excellent as well. Not too bitter or too sweet, it was just right.
Altrusa was on hand selling food in the concession stand which was being used to raise funds which help go towards their scholarship programs. Judy Hammerstein was kind enough to take a moment and speak with Clarksville Online, "We use this as a fundraiser, and we volunteer for the Clarksville Department of Parks and Recreation during Riverfest. Coming out to events like the July 3rd celebration is one of the major ways that we get publicity for our organization. This is also a great way to get out and do something for the community at the same time,"  she said.
The funds they raise go right back into the local community, "We host a back to school shopping program in the fall, we have a scholarship program, an academic Hall of Fame, Make a Difference Day, the very popular Altrusa Dancing with the Stars where we give out over $10,000 in scholarships; and throughout the year the club helps the community by providing emergency aid, assistance and service to people in need." I asked her about this years Dancing with the Stars which I never miss, "This year's Dancing with the Stars will be September 27th. We hope to have the tickets out there by mid August!"
As the time for the fireworks drew near Clarksville Mayor Kim McMillan took the stage and after thanking the Clarksville City Council, she announced that country music superstar Tracy Lawrence would be the headliner at this years Riverfest Celebration. Mayor McMillan took a moment to speak with Clarksville Online earlier in the evening.
"I want to thank people for coming out spending time with us and enjoying time with their families. This is what Clarksville is all about being able to see a wonderful fireworks show, hear some fantastic music, be able to experience the outdoors with such wonderful weather! I don't think it could get any better than this, " said Clarksville Mayor Kim McMillan as she pointed at scene outside. "I think that when you look at our city you will find a patriotic community, we believe in our country, our soldiers, and those that give us so much to help make this country what it is. Community participation at events like these clearly show the world that we are group of people that come together to demonstrate our love and support for our country on Independence Day!"
Then it was time for the highlight of the celebration, the fireworks!
Photo Gallery
Videos
Coverdown
Eight O'Five Jive
Fireworks