APSU Sports Information Office

Clarksville, TN – Austin Peay State University women's soccer team kicks off the 2014 regular season with a road match at Evansville, 7:00pm, Friday before returning for the home opener 2:00pm, Sunday against Chattanooga.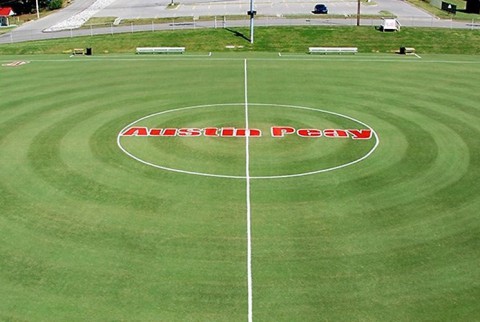 With 11 newcomers dotting the lineup and just four seniors on the roster, head coach Kelley Guth's team may be short on experience in 2014.
But the success of the previous four years has enabled Guth to assemble a talented roster that will benefit from learning under the seasoned tutelage of Frankie Carbajal, Claire Pultz and other Lady Gov upperclassmen.
Evansville was picked to finish fourth in the Missouri Valley Conference after placing fifth last season in the conference standings, despite owning the MVC's second-best overall winning percentage. All-MVC second-teamers Taylor Brand and Simone Busby return to anchor a Purple Aces defense that allowed fewer than one goal per game in 2013.
Chattanooga comes off a 5-13 mark in 2013, including a winless Southern Conference slate. The Mocs were tabbed to finish ninth in the SoCon in the preseason poll, with midfielder Crystal Mackezyk chosen as a preseason all-conference selection.
The Lady Govs are seeking their first regular-season win against Evansville in what will be their fifth attempt. Austin Peay owns a 5-3-0 mark all-time against Chattanooga.
Oh Captain, My Captain
Guth announced her captain's picks Thursday night, with Pultz, junior Shelby Olszewski and sophomore Gina Fabbro getting the nod.
"Shelby was a great addition for us last year," Guth said. "She's proven to be a leader and someone that the team respects. Gina is a solid performer day-in and day-out; she's one that a lot of the younger players look up to for the example she sets every day. Claire has really stepped her game up; she's a senior and I think she's ready to take on that role and help guide this team."
Olszewski was two-time OVC Defender of the Week in 2013, finishing the year as the Lady Govs third-leading scorer. Fabbro's seven goals was second-most by a freshman in school history, while Pultz logged nearly 1000 minutes on the backline despite not appearing in the starting lineup.
Last Time Against This Weekend's Opponents
Austin Peay defeated Evansville in exhibition play last season, getting two goals from Tatiana Ariza and a combined shutout from Nikki Filippone and Katie Emig at Morgan Brothers Soccer Field.
The Lady Govs opened the 2013 regular season with a 4-0 thumping at Chattanooga. Ariza scored twice, becoming Austin Peay's all-time leader in the process, while Olszewski and Fabbro each netted their first career Austin Peay goals in the contest.
Austin Peay attempted 18 shots, putting a dozen on net, while Chattanooga managed just four total shots and three on goal.
Keep An Eye On…
A win against Chattanooga would be Austin Peay's fifth straight against the Mocs, while the Lady Govs seek their first regular-season win against Evansville.
Fabbro looks to build on a seven-goal, three-assist freshman campaign; her goal tally was tied for second-best by a freshman in Austin Peay history with Ashley Beck (2005) and Jessica Hosse (2004).
The Lady Govs were faced to make a record-low 70 saves as a team in 2013, with Filippone accounting for 56. Her 0.80 goals-against average was the second-lowest in Austin Peay history behind Carley Newman's 2010 0.57 mark.
Lady Govs Online
Be sure to follow all the Lady Govs action at www.LetsGoPeay.com , and check them out on Twitter (@AustinPeaySocr) and by liking the Austin Peay's Official Athletics Facebook page.
Live stats will be available prior to the match at www.LetsGoPeay.com and postgame video can be found at www.youtube.com/CultureofExcellence