Austin Peay Sports Information Office

Clarksville, TN – Austin Peay State University's football team finally got to practice in New Governors Stadium.
After a preseason that saw them practicing on the soccer and intramural fields while doing walk throughs in the front lawn of the Dunn Center, the Governors finally got on the new FieldTurf XT at 3:00pm, Tuesday.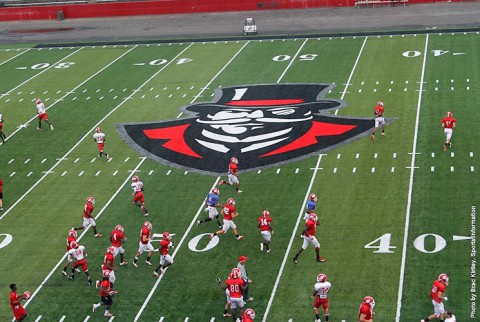 "We usually allow the players around 10 minutes to get over here to the field (from the Dunn Center)," APSU coach Kirby Cannon said. "Today they were over here in nine minutes or less. It's a great thing and a great environment. We are excited to be on this field."
The Governors open the season this weekend with a 6:00pm Saturday contest against Memphis in the Liberty Bowl.  Finally getting on the new turf—along with preparing for the opener—brought an even greater energy Tuesday afternoon.
"You try to plan some things out for game week," Cannon said. "Just by being game week, a certain level of excitement should occur, but doing this and a few other things this week you try to build up the momentum and excitement for the game on Saturday."
It didn't take the Govs long to familiarize themselves with the new surface. The players moved with an extra bounce from station to station. The kickers literally got a chance to practice on goal posts for the first time this fall—they did get to kick at goal posts during the first scrimmage at Clarksville Academy Sports Complex. No remnants existed on the playing surface from a downpour that occurred less than an hour before practice.
"It feels new, very new," Cannon said. "Everything is level and a lot of nap. It is a beautiful field. We are going to make sure we get it off to a good start on September 13th (home opener against  Chattanooga).