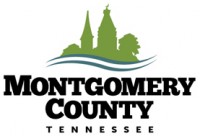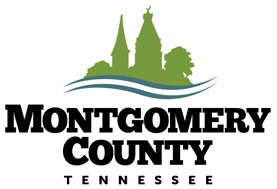 Montgomery County, TN – On Wednesday evening at the Clarksville-Montgomery County courthouse citizens and recently elected officials gathered to attend a reception and swearing in ceremony.
Retired Judge John Peay administered the oath of office seating the county officials Jim Durrett as Montgomery County Mayor, John Fuson as Sheriff, John W. Carney Jr. as the District Attorney General, Kellie Jackson as County Clerk, Erinne J. Hester as Assessor of Property, Connie Gunnett as the Register of Deeds, Brenda Radford as County Trustee,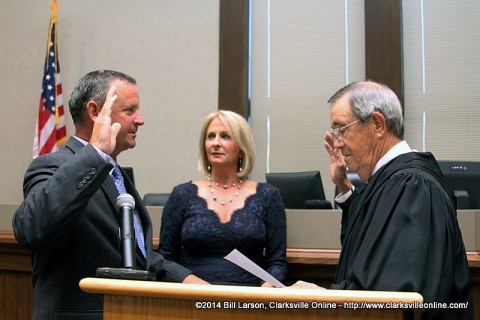 The Montgomery County Commission also added several new and some returning faces: Arnold Hodges in District 6, Brandon Butts in District 7, Audrey Tooley in District 13; David Harper in District 15, Wallace Redd in District 16, Jason Hodges in District 17, Monroe Gildersleeve in District 18, and Garland Johnson in District 19.
The Clarksville-Montgomery County School Board members sworn in were George Giles for District 1, Willie J. Freeman for District 3, Jimmie Garland for District 5, and Josh Baggett for District 7.
"It's an exciting time, we're excited, and we are looking forward to the next four years! We know that we have a great team coming in, and we got a great team hanging around. So we welcome you here tonight," said Phil Harpel, the outgoing director of administration for Montgomery County as he addressed the attendees.
"It's exciting! A little nerve-racking, but overall it's exciting. I'm looking forward to it," said soon to be Montgomery County Mayor Jim Durrett before the ceremony.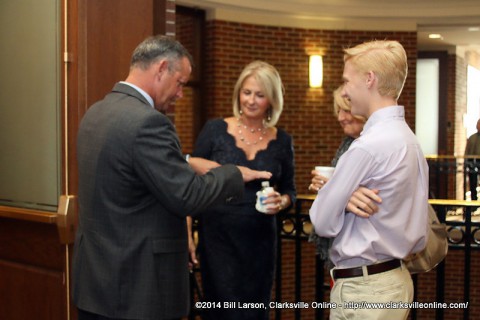 I asked him what his first task as the Montgomery County Mayor would be, he responded, "I think right now Bill, probably the biggest thing is what's going on or can potentially go on with Fort Campbell. I think that has a huge impact on our community. so will be one of my main focuses going into the office, you know that they are talking about doing a listening session sometime in October; so were going to ramp up, be ready for that. That won't consume all of my time but it's going to consume a lot of my time."
"Well it's very exciting. It's great to see the County residents come out and take part in this. It's very important! This just makes it official," said Montgomery County Sheriff John Fuson.
"It's so great to be here today," said new school board member Willie Freeman. "It's a new experience being a part of all the local government. I love this city, its great people, and I'm just glad to be a part of it." Freeman is currently serves as the head pastor at Greater Missionary Baptist Church.
"It's great being here today," said soon to be Montgomery County Commissioner Wallace Redd. "I feel so blessed from the Lord. I thank the voters for trusting me with the privilege of holding two offices simultaneously."
"I am very excited, this is my third swearing-in," said Montgomery County trustee Brenda Radford "I am honored to serve, and to continue to serve as Montgomery County Trustee"
"It feels great, just great to be here getting sworn in today," said Connie Gunnett who is replacing Connie Bell as Register of Deeds for Montgomery County. "I worked in the office for 31 years so it is such a great feeling that the voters of Montgomery County selected me to replace Connie Bell."
Photo Gallery