Bowling Green, KY – Outside hitters Jada Stotts and Christina White combined for 29 kills, but Austin Peay State University's volleyball team fell victim to too many errors in a four-set loss (25-21, 11-25, 14-25, 15-25) to Western Michigan, Friday, at the Holiday Inn University Plaza Invitational at E.A. Diddle Arena.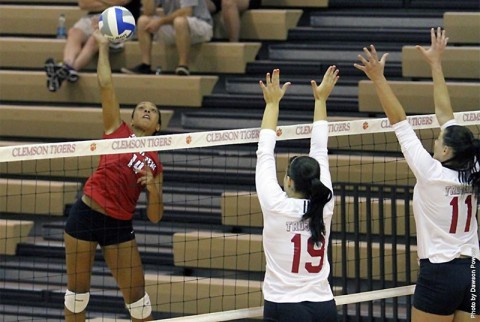 Austin Peay (3-7) opened the match with a 6-2 burst powered by two kills from freshman outside hitter Ashley Slay. Western Michigan stormed back and tied the set, 13-13, with a 5-0 run.
A Stotts kill kept the lead from changing hands and started a 5-0 APSU run helped along by a pair of Broncos errors. Stotts would score three kills in the set's final seven points, including the set-clincher in a 25-21 victory.
Western Michigan (5-2) dominated the match's remainder. The Broncos won the second set in wire-to-wire fashion and nearly repeated the feat in the third and fourth sets. Austin Peay's attack fizzled as 26 of the team's 31 attack errors came in the final three sets.
"We are making progress," said Lady Govs head coach Taylor Mott. "We are still making too many errors on our side of the net. However, those are things we can fix."
Stotts led Austin Peay with 15 kills and two service aces, but was held to a .122 attack percentage. White finished with 14 kills and was more successful with a .237 attack percentage. Freshman outside hitter Ashley Slay and sophomore outside hitter Sammie Ebright each had seven kills.
Austin Peay recorded 48 kills in the match, but the 31-error outing limited it to a .104 attack percentage. Western Michigan needed just 49 kills in the match but committed just 10 attack errors (.281 attack percentage).
Ave Stout and Mikaela Rysytylo each had 10 kills to lead the Broncos offense.
Austin Peay concludes its stay in Bowling Green when it faces host Western Kentucky in an 11:00am, Saturday contest.
Box Score
Western Michigan 3 vs Austin Peay 1
| Set Scores | | 1 | 2 | 3 | 4 | Team Records |
| --- | --- | --- | --- | --- | --- | --- |
| Austin Peay | (1) | 25 | 11 | 14 | 15 | 3-7 |
| Western Michigan | (3) | 21 | 25 | 25 | 25 | 5-2 |
Western Michigan (5-2)
| ## | Player | SP | K | E | TA | PCT | A | E | SA | SE | RE | DIG | BS | BA | Pts |
| --- | --- | --- | --- | --- | --- | --- | --- | --- | --- | --- | --- | --- | --- | --- | --- |
| 4 | HUBBARD-NEIL, Sierra | 3 | 3 | 2 | 11 | .091 | 0 | 0 | 2 | 0 | 1 | 5 | 0 | 0 | 5.0 |
| 5 | GOSSEN, Ali | 4 | 6 | 1 | 15 | .333 | 2 | 0 | 0 | 0 | 0 | 3 | 0 | 1 | 6.5 |
| 6 | BAZNIK, Alysia | 4 | 9 | 1 | 35 | .229 | 1 | 0 | 1 | 0 | 1 | 17 | 1 | 1 | 11.5 |
| 7 | PAWLIK, Lexie | 4 | 3 | 0 | 9 | .333 | 40 | 0 | 2 | 0 | 0 | 9 | 1 | 0 | 6.0 |
| 10 | LeMAY, Sydney | 4 | 8 | 1 | 20 | .350 | 0 | 0 | 0 | 0 | 0 | 1 | 2 | 3 | 11.5 |
| 22 | STOUT, Ave | 4 | 10 | 2 | 24 | .333 | 0 | 0 | 0 | 0 | 0 | 1 | 1 | 1 | 11.5 |
| 2 | ROSE, Caroline | 4 | 0 | 0 | 1 | .000 | 2 | 0 | 0 | 0 | 0 | 23 | 0 | 0 | 0.0 |
| 11 | CHEATHAM, Sydney | 4 | 0 | 0 | 0 | .000 | 0 | 0 | 0 | 1 | 0 | 2 | 0 | 0 | 0.0 |
| 24 | RYSHYTYLO, Mikaela | 4 | 10 | 3 | 24 | .292 | 1 | 0 | 1 | 1 | 1 | 12 | 0 | 2 | 12.0 |
| TM | TEAM | 1 | 0 | 0 | 0 | .000 | 0 | 0 | 0 | 0 | 1 | 0 | 0 | 0 | 0.0 |
| | Totals | 36 | 49 | 10 | 139 | .281 | 46 | 0 | 6 | 2 | 4 | 73 | 5 | 8 | 64.0 |
Team Attack By Set
Set
K
E
TA
Pct
1
11
4
41
.171
2
14
3
32
.344
3
12
1
32
.344
4
12
2
34
.294
Total Team Blocks: 9.0
LEADERS:Kills-Aces-Blocks: STOUT, Ave (10-0-2); RYSHYTYLO, Mikaela (10-1-2); BAZNIK, Alysia (9-1-2); LeMAY, Sydney (8-0-5); GOSSEN, Ali (6-0-1); HUBBARD-NEIL, Sierra (3-2-0); PAWLIK, Lexie (3-2-1)Assists: PAWLIK, Lexie (40); GOSSEN, Ali (2); ROSE, Caroline (2); BAZNIK, Alysia (1); RYSHYTYLO, Mikaela (1)

Digs: ROSE, Caroline (23); BAZNIK, Alysia (17); RYSHYTYLO, Mikaela (12); PAWLIK, Lexie (9); HUBBARD-NEIL, Sierra (5); GOSSEN, Ali (3); CHEATHAM, Sydney (2); LeMAY, Sydney (1); STOUT, Ave (1)
Austin Peay (3-7)
Team Attack By Set
Set
K
E
TA
Pct
1
17
5
46
.261
2
7
5
30
.067
3
12
12
48
.000
4
12
9
39
.077
Total Team Blocks: 4.0
LEADERS:
Kills-Aces-Blocks:STOTTS, Jada (15-2-0); WHITE, Christina (14-0-1); EBRIGHT, Sammie (7-0-1); SLAY, Ashley (7-0-2); PLYBON, Hillary (5-0-1)Assists:MARSELLIS, Aubrey (29); FIELDS, Cami (13); SLAY, Ashley (1); WHITE, Christina (1)Digs: ADAMS, April (18); WHITE, Christina (15); FIELDS, Cami (14); STOTTS, Jada (13); MARSELLIS, Aubrey (8); LITCHFIELD, Syd (3); EBRIGHT, Sammie (2); SLAY, Ashley (1); PLYBON, Hillary (1)