Clarksville, TN – Austin Peay State University's softball program has brought in players from almost every part of the country over the 29 years of the program, but this year's squad has a first in Erica Inagaki – the first player signed from the state of Hawaii.
Inagaki, a 5-foot-1 middle infielder is from the island of Oahu — the third largest of the Hawaiian Islands and over 4,200 miles from Clarksville – was found and recruited by coach Stephanie Paris and her coaching staff after getting a skills tape she had sent out.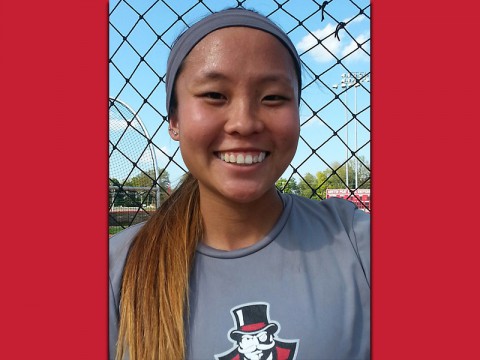 "I sent out a skills video and they emailed me back and kept in contact for a couple of months," Inagaki said. "Then I came here to visit the campus.
"I've never been to Tennessee, or this part of the country, before my visit and I just love it here. I thought the weather was a lot like home, but I'm excited about looking forward to winter and the cold, because we don't get that in Hawaii."
The Hawaiian Islands average temperature in winter is in the low 70's.
"Now I've just made a lot of softball friends and I've been hanging around them and they have been showing me around," Inagaki said. "Austin Peay has been everything I could have wanted and more. I really like it here."
And Inagaki is proving to be everything that Paris and her staff have hoped for.
"She was definitely someone that had the tools that we were looking for," Paris said. "She's just really smooth with her hands and has great feet. It's kind of uncommon in softball players where you find someone that has that foundation and she stood out in those areas.
"She can play both middle (infield) positions and really anywhere on the infield. In a pinch could play in the outfield too. She can play anywhere and isn't going to be a one-dimensional type of player. We're excited to have her."
Inagaki has already started to show her talents on the softball field, with a solid effort in the team's opening fall games this past weekend at the UT Martin Fall Softball Classic, as she started both games (one at shortstop and one at second base) and going 2-for-4 at the plate, while also drawing a walk, scoring a run and driving in a run.
She also made two outstanding plays in the field on defense, not showing the nerves that come with playing in your first college games.
"I thought I did alright even though I was a little nervous with it being my first college game(s), Inagaki said. "About midway through the first game I was able to calm down and play like it was any other game."
Hopefully this past weekend is just the first of what is going to be four great years at Austin Peay for a student-athlete over 4,000 miles from home.
"The coaches made me feel like I was at home and have become part of my family," Inagaki said. "They have really taken care of me and I hope it's just the beginning of great things for the next four years."