Clarksville, TN – Fright on Franklin, the City's annual Halloween festival will take place on Saturday, October 25th, in Downtown Clarksville from 3:00pm to 7:00pm. At this time, regular booth space for local businesses is filled and a waiting list has begun.
However, Clarksville Parks and Recreation has created additional opportunities for businesses still interested in participating.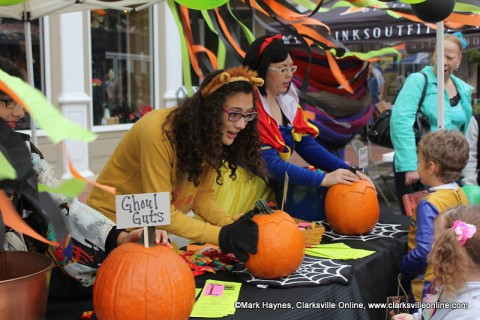 In an attempt to bring the fright to Fright on Franklin, a haunted house will be added to the event. Interested businesses will decorate and staff a 'room' in the haunted house.
Participating businesses will be responsible for all the decorations in their area. They will not be required to distribute candy, but may place promotional information at the entrance and exit of the haunted house.
Space is extremely limited for this opportunity, so please contact Jenna Tyler, Special Event Supervisor, at for more information.
Businesses located in downtown Clarksville are also eligible to participate in a storefront decorating contest that will take place from October 6th-24th. Downtown businesses will decorate their stores and be given a poster explaining the voting process. Votes will be tallied through Twitter and the hashtag #FrightonFranklin, followed by a tag of the applicable business. The business receiving the most votes will be announced at the event and awarded a Halloween goodie basket.
More information regarding costume contest registration and additional event activities will be forthcoming. Like us on Facebook (www.facebook.com/clarksvillespecialevents) for inside information on all the City's upcoming festivities. Special thanks to our Fright on Franklin, headlining sponsor: Altra Federal Credit Union. For more information, call Clarksville Parks & Recreation at 931.645.7476 or visit www.cityofclarksville.com/events.
About the Clarksville Parks and Recreation Department
The mission of the Clarksville Parks and Recreation Department is to provide a variety of positive recreational experiences to enhance life values for individuals, families, and our diverse culture. To learn more, visit www.cityofclarksville.com, like us on Facebook, or call 931.645.7476.