Austin Peay Sports Information Office

Clarksville, TN – Senior outside hitter Jada Stotts recorded her second consecutive 20-kill performance and Austin Peay State University downed Southeast Missouri in four sets (25-20, 15-25, 25-18, 26-24) to start Ohio Valley Conference play with a 2-0 mark, Saturday afternoon at the Dunn Center.
Once again Stotts had a flair for the dramatic, recording nine of Austin Peay's 17 kills in the decisive fourth set. She was responsible for five of Austin Peay's final six points in the match.
With APSU trailing 23-20 in the fourth set, Stotts recorded back-to-back kills, had a block to put APSU ahead 24-23, then put down back-to-back kills to win the set 26-24.
Austin Peay (8-10, 2-0 OVC) won for the fifth time in its last six matches despite a second-set lull. Austin Peay opened the match with a workman-like 17 kill outing to win the first set 25-20.
However, the Lady Govs old habit of inconsistency reared its head in an ugly second set.
Southeast Missouri (4-11, 0-2 OVC) jumped on a laggard APSU defense to the tune of 18 kills and a .429 attack percentage. The Redhawks defense also feasted on an uneven Lady Govs offensive effort, notching five blocks in the set to tie the match with a 25-15 victory.
The Lady Govs bounced back with a statement third set in which they recorded 18 kills at a .326 attack percentage. Six Lady Govs recorded a kill in the set with Stotts recording five and sophomore outside hitter Sammie Ebright and middle blocker senior Liz Landon each adding four kills in the 25-18 win to take a 2-1 lead and set up the fourth set.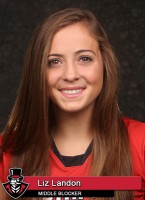 Southeast Missouri's offense vanished in that third set, recording 10 kills but only a .190 attack percentage. The Redhawks did not recover in the fourth set, recording 15 kills and a .188 attack mark. Austin Peay's defense stiffened in those two frames, recording 27 and 26 digs respectively to deny the SEMO attack.
"Once again we had to battle through some inconsistency," said Lady Govs head coach Taylor Mott. "But I am encouraged by the way we have fought through it in these first two conference matches. Jada really stepped up her play in these first two matches but we will need everyone to step up their play as we get deeper into the league schedule."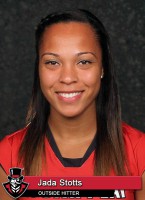 Stotts' 24 kills led Austin Peay and she added 21 kills, two service aces and four blocks to her tally. Ebright added 10 kills at a .333 attack rate. Seven Lady Govs hitters recorded a kill and they finished with 62 team kills at a .229 pace.
Andrea Baylin led Southeast Missouri with 12 kills and was one of four hitters to find double-digit kill territory. The Redhawks were held to 57 kills but posted a better .256 attack percentage.
Austin Peay, which is 2-0 in conference play for the first time since 2010, now prepares for an early matchup of unbeaten OVC teams when it hosts Murray State in a 7:00pm, Tuesday contest at the Dunn Center. Murray State improved to 2-0 in league play with a four-set victory against UT Martin, Tuesday.
Box Score
Southeast Missouri 1 vs Austin Peay 3
| Set Scores | | 1 | 2 | 3 | 4 | Team Records |
| --- | --- | --- | --- | --- | --- | --- |
| Austin Peay | (3) | 25 | 15 | 25 | 26 | 8-10, 2-0 OVC |
| Southeast Missouri | (1) | 20 | 25 | 18 | 24 | 4-11, 0-2 OVC |
Southeast Missouri (4-11, 0-2 OVC)
| ## | Player | SP | K | E | TA | PCT | A | E | SA | SE | RE | DIG | BS | BA | Pts |
| --- | --- | --- | --- | --- | --- | --- | --- | --- | --- | --- | --- | --- | --- | --- | --- |
| 2 | BAYLIN, Andrea | 4 | 12 | 4 | 43 | .186 | 3 | 0 | 1 | 2 | 0 | 8 | 0 | 2 | 14.0 |
| 3 | ROTTA, Katarina | 4 | 1 | 0 | 3 | .333 | 34 | 0 | 0 | 0 | 1 | 7 | 0 | 0 | 1.0 |
| 5 | GEARRING, Krissa | 4 | 11 | 3 | 37 | .216 | 0 | 0 | 0 | 0 | 4 | 25 | 0 | 0 | 11.0 |
| 9 | MASTERSON, Taylor | 4 | 10 | 2 | 24 | .333 | 0 | 0 | 0 | 0 | 0 | 3 | 5 | 1 | 15.5 |
| 12 | HENKELMAN, Allie | 4 | 0 | 0 | 0 | .000 | 13 | 0 | 1 | 1 | 0 | 12 | 0 | 0 | 1.0 |
| 16 | CLARKE, Nzingha | 4 | 11 | 3 | 18 | .444 | 1 | 0 | 0 | 0 | 0 | 0 | 2 | 4 | 15.0 |
| 1 | ROHLFING, Alex | 1 | 0 | 0 | 0 | .000 | 0 | 0 | 0 | 0 | 0 | 0 | 0 | 0 | 0.0 |
| 6 | LAMBERT, Jessica | 1 | 0 | 0 | 0 | .000 | 0 | 0 | 0 | 0 | 0 | 0 | 0 | 1 | 0.5 |
| 8 | STRANGES, Meredith | 4 | 0 | 0 | 0 | .000 | 0 | 0 | 0 | 0 | 0 | 4 | 0 | 0 | 0.0 |
| 13 | KEEVE, Kelsey | 4 | 7 | 2 | 16 | .313 | 1 | 0 | 0 | 0 | 0 | 2 | 0 | 3 | 8.5 |
| 14 | WERTHS, Madalyn | 4 | 5 | 1 | 21 | .190 | 0 | 0 | 0 | 0 | 0 | 4 | 0 | 1 | 5.5 |
| 15 | MORTIMER, Jade | 4 | 0 | 0 | 2 | .000 | 2 | 0 | 1 | 1 | 1 | 15 | 0 | 0 | 1.0 |
| TM | TEAM | 1 | 0 | 0 | 0 | .000 | 0 | 0 | 0 | 0 | 2 | 0 | 0 | 0 | 0.0 |
| | Totals | 43 | 57 | 15 | 164 | .256 | 54 | 0 | 3 | 4 | 8 | 80 | 7 | 12 | 73.0 |
Team Attack By Set
Set
K
E
TA
Pct
1
14
4
39
.256
2
18
3
35
.429
3
10
2
42
.190
4
15
6
48
.188
Total Team Blocks: 13.0
LEADERS:
Kills-Aces-Blocks:BAYLIN, Andrea (12-1-2); GEARRING, Krissa (11-0-0); CLARKE, Nzingha (11-0-6); MASTERSON, Taylor (10-0-6); KEEVE, Kelsey (7-0-3); WERTHS, Madalyn (5-0-1); ROTTA, Katarina (1-0-0)Assists:ROTTA, Katarina (34); HENKELMAN, Allie (13); BAYLIN, Andrea (3); MORTIMER, Jade (2); CLARKE, Nzingha (1); KEEVE, Kelsey (1)
Digs: GEARRING, Krissa (25); MORTIMER, Jade (15); HENKELMAN, Allie (12); BAYLIN, Andrea (8); ROTTA, Katarina (7); STRANGES, Meredith (4); WERTHS, Madalyn (4); MASTERSON, Taylor (3); KEEVE, Kelsey (2)
Austin Peay (8-10, 2-0 OVC)
| ## | Player | SP | K | E | TA | PCT | A | E | SA | SE | RE | DIG | BS | BA | Pts |
| --- | --- | --- | --- | --- | --- | --- | --- | --- | --- | --- | --- | --- | --- | --- | --- |
| 4 | EBRIGHT, Sammie | 4 | 10 | 1 | 27 | .333 | 1 | 0 | 2 | 0 | 0 | 20 | 0 | 1 | 12.5 |
| 6 | SLAY, Ashley | 4 | 8 | 2 | 21 | .286 | 2 | 0 | 1 | 0 | 0 | 3 | 1 | 0 | 10.0 |
| 7 | MARSELLIS, Aubrey | 4 | 4 | 0 | 12 | .333 | 46 | 0 | 0 | 1 | 0 | 14 | 0 | 0 | 4.0 |
| 8 | LANDON, Liz | 4 | 7 | 4 | 24 | .125 | 3 | 0 | 0 | 0 | 0 | 4 | 0 | 3 | 8.5 |
| 10 | STROTHER, Samantha | 3 | 5 | 5 | 20 | .000 | 0 | 0 | 1 | 0 | 1 | 2 | 0 | 0 | 6.0 |
| 14 | STOTTS, Jada | 4 | 24 | 6 | 56 | .321 | 1 | 0 | 2 | 1 | 0 | 21 | 2 | 2 | 29.0 |
| 1 | FIELDS, Cami | 2 | 0 | 0 | 0 | .000 | 6 | 0 | 0 | 0 | 0 | 1 | 0 | 0 | 0.0 |
| 3 | ADAMS, April | 3 | 0 | 0 | 0 | .000 | 0 | 0 | 0 | 0 | 0 | 3 | 0 | 0 | 0.0 |
| 11 | WHITE, Christina | 3 | 4 | 3 | 18 | .056 | 0 | 0 | 2 | 1 | 1 | 8 | 1 | 0 | 7.0 |
| 13 | LITCHFIELD, Syd | 3 | 0 | 0 | 1 | .000 | 1 | 0 | 0 | 0 | 1 | 7 | 0 | 0 | 0.0 |
| | Totals | 34 | 62 | 21 | 179 | .229 | 60 | 0 | 8 | 3 | 3 | 83 | 4 | 6 | 77.0 |
Team Attack By Set
Set
K
E
TA
Pct
1
17
5
43
.279
2
10
6
40
.100
3
18
4
43
.326
4
17
6
53
.208
Total Team Blocks: 7.0
LEADERS:
Kills-Aces-Blocks:STOTTS, Jada (24-2-4); EBRIGHT, Sammie (10-2-1); SLAY, Ashley (8-1-1); LANDON, Liz (7-0-3); STROTHER, Samantha (5-1-0); MARSELLIS, Aubrey (4-0-0); WHITE, Christina (4-2-1)Assists:MARSELLIS, Aubrey (46); FIELDS, Cami (6); LANDON, Liz (3); SLAY, Ashley (2); EBRIGHT, Sammie (1); STOTTS, Jada (1); LITCHFIELD, Syd (1)Digs: STOTTS, Jada (21); EBRIGHT, Sammie (20); MARSELLIS, Aubrey (14); WHITE, Christina (8); LITCHFIELD, Syd (7); LANDON, Liz (4); SLAY, Ashley (3); ADAMS, April (3); STROTHER, Samantha (2); FIELDS, Cami (1)