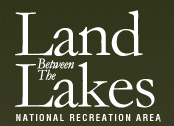 Golden Pond, KY – Early Scots-Irish settlers' traditions come to life when Land Between The Lakes National Recreation Area presents Snap Apple Night at The Homeplace, Saturday, October 18th, 6:30pm-9:00pm. Doors open at 6:00pm.
During Snap Apple Night, The Homeplace takes on a magical and mysterious atmosphere. The evening begins around a blazing bonfire where storytellers entertain with eerie tales. Visitors can join an old-time Snap Apple play party and participate in fortune telling games from the 1850's—be prepared for the unexpected!
"Snap Apple Night is a fun way to learn and experience the traditions of the early Pryor Creek settlers of this region," said Cindy Earls, Lead Homeplace Interpreter. "It's a great way for families to get outdoors and celebrate the fall season."
Warm spiced cider will be served. Participants should dress appropriately for a brisk fall evening. Bring chairs and blankets. The event will take place rain or shine. Admission is $5.00 for ages 13 and up, $3.00 for ages 5-12, and free for ages 4 and under with their family. For more information, call 931.232.6457 or visit www.landbetweenthelakes.us/calendar/snap-apple-night/ . This program is ideal for home educators.
The Homeplace is located in the Tennessee portion of Land Between The Lakes and features 16 restored or reconstructed log buildings, as well as interpreters in period clothing demonstrating the daily lives and customs of mid-19th century era farm families.
About Land Between the Lakes
Land Between The Lakes National Recreation Area manages more than 170,000 acres in western Kentucky and Tennessee as part of the U.S. Forest Service and the Department of Agriculture's public lands program. Land Between The Lakes offers outdoor recreation, lake access, land management, and environmental education to over 1.4 million visitors annually. The Friends of Land Between The Lakes works in partnership with the Forest Service providing program services, funds development, and volunteer support.
To find more information about Land Between The Lakes, log on to the official website at www.landbetweenthelakes.us or call toll-free at 1.800.LBL.7077 or local at 270.924.2000. For more information on the Friends of Land Between The Lakes, log on to www.friendsoflbl.org.
To subscribe to the official electronic newsletter, send an email to . Land Between The Lakes official Twitter accounts include @LBLScreechOwl, @LBLNature, @LBLHomeplace, and @LandBtwnLakes.
USDA is an equal opportunity provider and employer.