APSU Sports Information Office

Clarksville, TN – The leisurely pace of individual workouts will come to an end at 3:15pm, Wednesday, as Austin Peay State University's baseball team opens its fall practice schedule at Raymond C. Hand Park.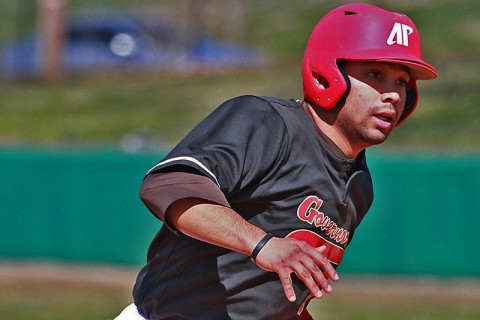 The Govs fall practice slate will begin Wednesday and continue through November 16th – a stretch of 32 days. Austin Peay will play 15 intrasquad scrimmages, including the annual Red-Black World Series, November 12th-16th
In addition, the Govs will play their first fall intersquad contest under head coach Gary McClure when they face Tennessee in a November 1st contest in Knoxville, TN.
All practices and scrimmages are free and open to the public.
Austin Peay's tentative scrimmage schedule is listed below, it is subject to change due to squad limits or weather
This Week's Practice Schedule
October 13th-19th
Mon.
Oct. 13
Tue.
Oct. 14
Wed.
Oct. 15
Thu.
Oct. 16
Fri.
Oct. 17
Sat.
Oct. 18
Sun.
Oct. 19
Off Day
Off Day
3:15 p.m.
Practice
3:15 p.m.
Practice
3:15 p.m. BP
Scrimmage
1 p.m.
Scout Day
Scrimmage
Off Day
Scrimmage Schedule
TENTATIVE SCRIMMAGE SCHEDULE(Time listed is start of batting practice)
3:15 p.m., Fri., Oct. 17
Scrimmage 1
1 p.m., Sat., Oct. 18
Scrimmage 2
Scout Day
3:15 p.m., Thu., Oct. 23
Scrimmage 3
3:15 p.m., Fri., Oct. 24
Scrimmage 4
10:30 a.m., Sat., Oct. 25
Scrimmage 5
2:45 p.m., Tue., Oct. 28
Scrimmage 6
2:45 p.m., Wed., Oct. 29
Scrimmage 7
1 p.m. (CT), Sat., Nov. 1
Scrimmage 8
Austin Peay at Tennessee
3:45 p.m., Fri., Nov. 7
Scrimmage 9
Parents Weekend
10:30 a.m., Sat., Nov. 8
Scrimmage 10
Parents Weekend
Noon, Sun., Nov. 9
Scrimmage 11
Parents Weekend
RED-BLACK WORLD SERIES
2:45 p.m., Wed., Nov. 12
Game 1
3:15 p.m., Thu., Nov. 13
Game 2
3:45 p.m., Fri., Nov. 14
Game 3
10:30 a.m., Sat., Nov. 15
Game 4
Noon, Sun., Nov. 16
Game 5