APSU Sports Information Office

Nashville, TN – Senior middle blocker Liz Landon had her best outing since the season's opening day to lead Austin Peay State University's volleyball team in a three-set sweep (25-15, 25-18, 25-18) of Tennessee State, Friday night, in Ohio Valley Conference action at Kean Hall.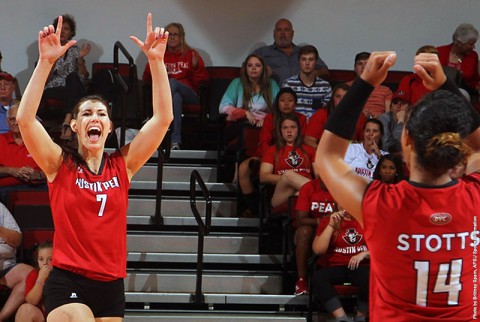 Landon finished with 11 kills but recorded just one attack error to post a .556 attack percentage. It was her best offensive outing since a 12-kill effort in the season's first match. Senior outside hitter
Jada Stotts
recorded 12 kills to lead the APSU offensive effort.
However, the story of the night was the Austin Peay (11-12, 5-2 OVC) defense which limited Tennessee State to 27 kills and a .081 attack percentage. It was the fewest kills by an APSU opponent and second-lowest attack percentage permitted. The Lady Govs posted an impressive 63 digs in the three-set match while posting seven blocks.
Meanwhile, Austin Peay's offense recorded 47 kills and posted a .286 attack percentage in the winning effort. The Lady Govs recorded 14 kills and a .379 attack percentage in a wire-to-wire opening set win. Austin Peay posted 18 kills in the second set and used a 9-4 run to break open the frame. The Lady Govs cooled off to 15 kills and a .191 attack percentage in the third set but used a 7-2 run to break a 10-10 tie en route to the win.
"We showed much better energy tonight," said Lady Govs head coach Taylor Mott. "That energy showed up on defense, which I felt was much improved. We came out playing to win and got the result we needed. Liz had an incredible night and has really stepped up her play in the last couple of matches."
Austin Peay remains one win behind the league's co-leaders, a group that was trimmed to two – Murray State and Eastern Kentucky – after Friday's action.
The Lady Govs continue their Nashville road swing with a 12:30pm, Saturday contest at Belmont, which fell in three sets to Murray State and out of the league lead.
Box Score
Austin Peay 3 vs Tennessee State 0
| Set Scores | | 1 | 2 | 3 | Team Records |
| --- | --- | --- | --- | --- | --- |
| Tennessee State | (0) | 15 | 18 | 18 | 8-14 (2-5 OVC) |
| Austin Peay | (3) | 25 | 25 | 25 | 11-12 (5-2 OVC) |
Austin Peay (11-12 5-2 OVC)
Team Attack By Set
Set
K
E
TA
Pct
1
14
3
29
.379
2
18
4
43
.326
3
15
6
47
.191
Total Team Blocks: 7.0
LEADERS:
Kills-Aces-Blocks:STOTTS, Jada (12-1-1); LANDON, Liz (11-0-2); SLAY, Ashley (8-0-5); WHITE, Christina (7-0-1); MARSELLIS, Aubrey (5-2-2); EBRIGHT, Sammie (4-0-3)Assists:MARSELLIS, Aubrey (33); LANDON, Liz (3); STOTTS, Jada (2); EBRIGHT, Sammie (1); WHITE, Christina (1)Digs: WHITE, Christina (15); STOTTS, Jada (14); BALES, Lizzy (13); EBRIGHT, Sammie (10); MARSELLIS, Aubrey (6); LANDON, Liz (3); SLAY, Ashley (2)
Tennessee State (8-14 2-5 OVC)
| ## | Player | SP | K | E | TA | PCT | A | E | SA | SE | RE | DIG | BS | BA | Points |
| --- | --- | --- | --- | --- | --- | --- | --- | --- | --- | --- | --- | --- | --- | --- | --- |
| 1 | Ileanushka Maldonado | 3 | 0 | 0 | 1 | .000 | 2 | 0 | 0 | 0 | 2 | 18 | 0 | 0 | 0.0 |
| 3 | Taylor Patterson | 3 | 1 | 0 | 2 | .500 | 0 | 0 | 0 | 0 | 0 | 5 | 0 | 0 | 1.0 |
| 4 | Carla Grayson | 3 | 0 | 1 | 4 | -.250 | 0 | 0 | 0 | 0 | 0 | 0 | 0 | 0 | 0.0 |
| 6 | Samantha Beltran | 3 | 4 | 0 | 10 | .400 | 21 | 0 | 0 | 1 | 0 | 7 | 0 | 0 | 4.0 |
| 7 | Arijana Anderson | 3 | 7 | 4 | 30 | .100 | 0 | 0 | 0 | 0 | 0 | 1 | 0 | 0 | 7.0 |
| 8 | Naomi Wells | 3 | 4 | 4 | 29 | .000 | 3 | 0 | 0 | 1 | 1 | 10 | 0 | 2 | 5.0 |
| 10 | Neisha Crockett | 3 | 3 | 4 | 11 | -.091 | 0 | 0 | 0 | 0 | 0 | 0 | 0 | 0 | 3.0 |
| 12 | Madison Halterman | 3 | 0 | 0 | 0 | .000 | 0 | 0 | 0 | 1 | 1 | 9 | 0 | 0 | 0.0 |
| 13 | Jaime Cooper | 3 | 0 | 0 | 1 | .000 | 0 | 0 | 0 | 0 | 0 | 2 | 0 | 0 | 0.0 |
| 15 | Haley Hampton | 3 | 8 | 5 | 23 | .130 | 0 | 0 | 0 | 2 | 0 | 1 | 0 | 2 | 9.0 |
| | Totals | 30 | 27 | 18 | 111 | .081 | 26 | 0 | 0 | 5 | 4 | 53 | 0 | 4 | 29.0 |
Team Attack By Set
Set
K
E
TA
Pct
1
9
6
32
.094
2
8
6
37
.054
3
10
6
42
.095
Total Team Blocks: 2.0
LEADERS:Kills-Aces-Blocks: Haley Hampton (8-0-2); Arijana Anderson (7-0-0); Samantha Beltran (4-0-0); Naomi Wells (4-0-2); Neisha Crockett (3-0-0); Taylor Patterson (1-0-0)Assists: Samantha Beltran (21); Naomi Wells (3); Ileanushka Maldonado (2)

Digs: Ileanushka Maldonado (18); Naomi Wells (10); Madison Halterman (9); Samantha Beltran (7); Taylor Patterson (5); Jaime Cooper (2); Arijana Anderson (1); Haley Hampton (1)