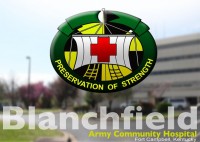 Fort Campbell, KY – During Blanchfield Army Community Hospital's 8th annual Walk to Remember Ceremony Thursday, families and parents gathered to remember and honor children lost at birth, miscarriage or at a young age.
The event, held on the hospital's "A" Building Veranda, was organized by BACH's chaplain and Bereavement Support Committee in support of Pregnancy and Infant Loss Remembrance Month. The national observance provides an opportunity to increase understanding of the tragedy involved in the deaths of unborn and newborn babies.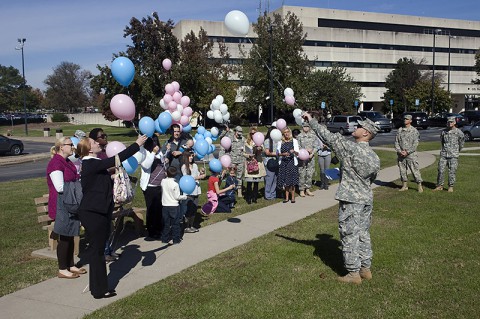 The annual "walk" seeks to promote support, education and awareness for bereaved parents and family members. BACH's Bereavement Support Committee extends the national remembrance to include bereavement of the loss of child at any age.
"We are here not to be saddened by our stories of loss, but to be inspired and comforted by our stories of remembrance and love," said Brie LaJeret, a keynote speaker and Fort Campbell community member who lost two children within a year. "Our little ones remain in our hearts, never to be forgotten, but always remembered."
A year ago, LaJeret was devastated by the loss and would not have been able to speak at the ceremony, she said. "This year, I've had time of reflection and time to process my own grief. Coming here today allowed me to share that process with others. I hope it can show them, even though it's hard, you can make it through these significant losses."
"We are all here, united by loss. But we can be strengthened, comforted and reassured by knowing we are not alone in our grief," LaJeret said.
Losing a child so early presents a unique emotional impact on parents, explained Elise Israel, who attended the ceremony with her husband Staff Sgt. Lance Israel from 1st Brigade Combat Team, 101st Airborne Division (Air Assault). "It is kind of the quiet loss, and people don't know what to say to you. So this is a moment to be recognized that I'm a mom, too. Even though my children didn't make it, I am still a mother and he's still a father. We grieve, and we miss them."
The Israel family said they experienced two stillbirths, with the first being four years ago the day of the ceremony and the second just two months ago. To honor the memories of those lost, the couple wrote their babies' names on paper butterflies, which they attached to balloons and released during the ceremony.
"When you lose a child at miscarriage or stillbirth, there's no funeral and (you miss the opportunity for) a lot of people being able to surround you for that moment to just grieve and let go. So, it was nice to have this ceremony. You don't get that level of ceremony when you lose a child that early," Israel said.
Events like the Walk to Remember allow parents to be with others who understand their grief and help alleviate feelings of loneliness, Israel added.
"We really wanted to be here, create awareness, and be around other people who understand the grief of losing a child that really no one else got know. It helps us celebrate those moments that we had together, and maybe not feel so alone in the loss."
Israel said there are a lot of community resources like the BACH Bereavement Support Committee and people who are more than willing to talk and support each other. "Through this I've met a lot of wonderful women . To have a conversation with a woman and for her to be able to share her story, helps give each other strength. To have that bond, lets you know there are lots of us out there who have (shared experiences) done it and care about each
other."
The wounds will never disappear but healing does occur, LaJeret said. "The pain eventually does lessen and coming to things like this ceremony really helps you process that and shows you there is a community to support you, and you are not alone in your grief."