Introduces user-friendly, convenience features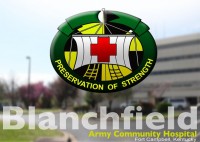 Fort Campbell, KY – Blanchfield Army Community Hospital's new call distribution system will launch at noon Wednesday, giving callers a host of new convenience features to minimize their time on the phone.
Among the new features, callers will receive an option for call returns without losing their place in line. If this option is chosen, callers key their phone number into the system and it will automatically return calls in the order they were received by identifying the caller's place in the calling queue.
"When patients call into the phone lines they will also be provided with a wait time," said chief medical information officer Lt. Col. Elizabeth Vinson.
In addition, the new system offers recording of incoming and outgoing calls for quality assurance. Recordings will be expired after a designated time period.
To ensure the new system is operating correctly, the vendor will switch one number at a time from the current system to the new system. The local 270.798.4766 appointment line number will be the first number to be switched to the new system. The switch will occur at noon.
After hospital personnel verify that the new system is operating properly, the second appointment line local number 931.431.4677 will be converted from the current to the new system. The toll free 866.524.4677 appointment line number used by individuals calling outside of the area, typically using a land line phone, will be unavailable for about an hour during the switch.
"The Soldier and Patient-Centered Medical Home phone lines will be converting over to the new system next week," Vinson explained.
During the distribution call switchover, Soldier and Patient-Centered Medical Homes will not be available by phone for about one week beginning November 5th.
"We expect phones within the Soldier and Patient-Centered Medical Homes to be operational by November 17th," said Vinson.
During the transition, patients may leave a telephone consultation with appointment line personnel and/or send a note using the Army Medicine Secure Messaging System, powered by RelayHealth.
"We determined that are current system is too outdated to adequately meet the customer service needs of our community. After observing our patients' feedback in the Army Provider Level Satisfaction Surveys, our team began researching phone systems that would best meet our specific needs. Once determined, the purchasing process was initiated immediately," said BACH commander Col. George N. Appenzeller.
Appenzeller noted that although the new system will have wonderful customer-service related features, initially it will be a little challenging for appointment line personnel to operate until they get familiar with the new features.
"Callers may experience a little longer time on the phone with our appointment line personnel during the implementation period, and the longer wait time may last a couple of weeks until our personnel become confident users of the new system," said Appenzeller. "We ask individuals calling into the new system these next couple of weeks to be patient with our staff as they truly desire to respond to each caller with excellent customer service."