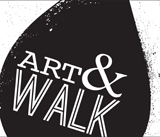 Clarksville, TN – Produced by the Downtown Clarksville Association, First Thursday Art Walk is a free, self-guided tour spanning a 5-block radius that combines visual art, live music, engaging events and more in the heart of Downtown Clarksville.
With 10+ venues, bars and businesses participating each month, the First Thursday Art Walk in Clarksville is the ultimate opportunity to savor and support local creative talent.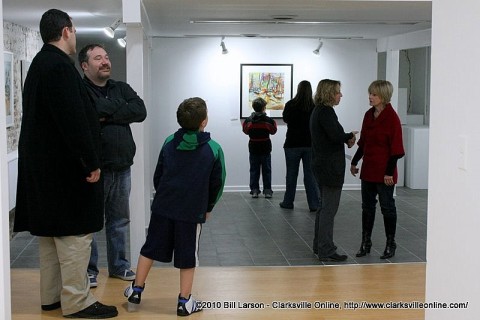 The November Art Walk will be held November 6th from 5:00pm to 8:00pm at the shops and galleries on Public Square, Franklin Street, and Strawberry Alley.
The participating businesses are listed below as well as a description of the work they will be exhibiting and services they will be offering during the event.
The Downtown Artists Co-op (96 Franklin Street)
The DAC is an association of talented local artists and interested patrons dedicated to promoting the visual arts in the Clarksville/Montgomery County area. Our objectives are to sponsor art exhibitions of work by Co-op members and regional artists, to provide continuing support for the Co-op and its membership through the sale of art work, to encourage arts education with outreach programs and scholarship fundraisers, and to develop membership services which directly support the arts community.
Artist Information:
The Downtown Artists Co-op will feature Gail Meyer's exhibit entitled "Yielding to Inspiration" during the November First Thursday Art Walk.
The exhibit will include paintings in the style of expressionism, impressionism, and the abstract in acrylics, pastel, and mixed media. She will also include her new beaded jewelry designs.
The exhibit promises to be colorful, varied and informative. Gail paints what she feels at the moment and will exhibit landscapes, city scapes, colorful still life, spiritual subjects and selected of her favorite iconic Clarksville scenes.
Please join them at the DAC Gallery, 95 Franklin Street for the opening reception on Thursday, November 6th, 5:00pm-8:00pm. As always, the opening reception is a center point of Clarksville's First Thursday Art Walk.
Edward's Steakhouse (107 Franklin Street)
Edward's Steakhouse is proud to host local artist, Laura Blair, during the November First Thursday Art Walk.
Laura Blair graduated from the University of Alabama with a degree in Studio Art, and a minor in Art History. After painting throughout childhood, primarily using watercolors, Laura Blair took her first class in oil painting at the University, where she later excelled in building and creating large-scale oil paintings.
She also studied interior design while at Alabama, and has since used that knowledge to influence her paintings, specifically commissioned work.
"I want to engage the viewer into an imaginative world, and rather than interfering with nature, create a profound abstract composition. The dramatic affects that color has on people inspires me to use them in my paintings as a means of evoking emotion through each stroke."
Stop in and see the art and take in their Thursday night special, 1/2 priced $7.00 appetizers and 2 for 1 draft drink specials.
The Runner's Hub (127 Franklin Street)
The Runner's Hub hosts group runs around Historic Downtown Clarksville every Thursday evening at 5:30pm.
The Roxy Regional Theatre – Peg Harvill Gallery (100 Franklin Street)
For those who enjoy the visual arts, the Peg Harvill Gallery, located just beyond the lobby, hosts twelve shows annually featuring locally and nationally known artisans. Shows generally open the first Thursday of each month for our First Thursday Art Walk.
Artist Information:
The Peg Harvill Gallery at the Roxy Regional Theatre is pleased to host local artist, Larry Martin for the November First Thursday Art Walk.
Gallery hours during Art Walk will be 5:00pm – 8:00pm.  Additional gallery hours are Monday through Friday, 9:00am – 2:00pm.
For tickets to and information about our current productions of "Little Women: The Musical" and "Hedwig and the Angry Inch," please visit www.roxyregionaltheatre.org or call the box office at 931.645.7699.
The Gilroy Neighborhood Pub (140 University Avenue)
Continue your evening of Art Walk down Franklin Street and stop in The Gilroy for a refreshing beverage and a great meal.
After Walk Party at The Gilroy…
2-4-1 Drafts til midnight, 2-4-1 Cocktails til 10:00pm
Customs House Museum (200 S. 2nd Street)
The Customs House Museum and Cultural Center is Tennessee's second largest general interest museum. It features fine art, history, and children's exhibits.
Exhibits:
November celebrates the year of the horse with a "Season of Equine" theme. All exhibits open November 4th.
My Kingdom for a Horse – Sponsored in Part by Jill Crow, TN State Museum, West Tennessee Regional Art Center
Eric L. Hansen: Blood Rescue – Sponsored in part by Legends Bank
The Horse as Muse: Members of the American Academy of Equine Art
The Tennessee Walking Horse
Anthony Scarlati: Rediscovering the Horse
Guy Bozard:  Horse of Wood
Giddy-Up: Toy Horses from the Collection
Ole Bill's Tack Shop
Members of the Gateway Chamber Orchestra, Eli Lara and Lisa Wolynec, will present fun and entertaining music for flute and cello at the Customs House Museum from 6:00pm – 6:30pm during Art Walk on Thursday, November 6th, 2014.
The Framemaker  (705 North Second Street)
Artist Information:
New Work by Melanie Hildebrandt
The Framemaker proudly presents a new series of photographs by Melanie Hildebrandt as part of Clarksville's First Thursday Art Walk on November 6th, 2014.
An opening reception will be held from 5:00pm to 8:00pm. The exhibit will remain on display at the Framemaker throughout the month of November during normal business hours (Monday through Friday 10:00am – 5:00pm).
Originally from Michigan, Melanie currently lives in Clarksville, TN. Melanie received a bachelor of Fine Arts degree in Graphic Design from Austin Peay State University (APSU).
The Framemaker is located at the corner of North Second Street and Georgia Avenue, across from The Clarksville Academy.
Rogate's Boutique (115 Franklin Street)
Artist Information:
Rogate's Boutique will host local artist, Dorothy Thomason, during the November First Thursday Art Walk.
Dorothy is an excellent artist of mostly smaller pieces of scratchboard and watercolor.
L&N Train Station (189 10th Street)
As part of the November 6th First Thursday Artwalk, the Clarksville/Montgomery County Arts and Heritage Development Council and Montgomery County Historical Society are sponsoring two arts events at the L & N Depot, corner of 10th and Commerce streets, from 5:00pm to 6:30pm.
Rossview High School art students of Mary Bryant will have their work on exhibit at the train station through the month of November, with the opening reception this Thursday.
The editors of "The Diary of Nannie Haskins Williams"—Minoa Uffelman, Ellen Kanervo, Phyllis Smith and Eleanor Williams—will be at the station to discuss their work on this diary kept by a young Clarksville woman during the Civil War and post-war period.
The diary was published by the University of Tennessee Press in August 2014 and has sold more than 900 copies nationwide.
Other ArtWalk Venues
Planters Bank – Hilldale Branch  (1971 Madison Street)
Artist Information:
The Planters Bank-Hilldale Gallery will feature the richly-colored paintings of local artist Larry Martin Thursday, November 6th – Wednesday, December 3rd, 2014.
Having a varied career in Accounting, Linguistics, Music and Financial Management, Martin was always interested in art, but only began painting seriously after he retired at age 65 and has been painting for 10 years now.  His career journey meandered through a stint in the Military in California and Maryland, many years in the Orient as a Chinese Mandarin linguist, many more years in the Washington, D.C. area as Operating Manager for a major corporation, and finally marriage at age 40 and permanent relocation to Tennessee as Vice President of a Financial Management company.
During all the while he pursued a music career with bands, in piano bars, and as a church organist for over 60 years.  He is now retired and just plays bridge (a Bronze Life Master in the ACBL), paints, and enjoys life.
Both Martin's original paintings, as well as smaller sized prints, will be available for sale.
For more information, call Michelle Dickerson at 931.648.7154.