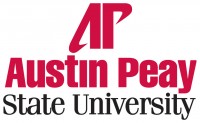 Clarksville, TN – Claudia Delgadillo had just worked a late shift at the restaurant, so when her cell phone rang around noon the next day, she almost didn't answer it. The fact that the cell phone rang at all was a surprise to her because it was about to be disconnected.
The person on the other end of the phone was from Dr. Pepper, and as Delgadillo slowly woke up, she heard them say they were sending her to the Cotton Bowl for a chance to win a $100,000 college scholarship.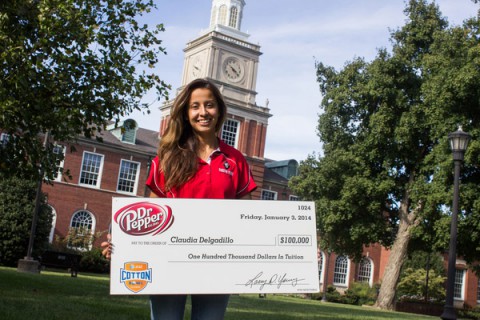 "My heart just stopped," she said. "I was like, 'Are you serious?'"
Today, Delgadillo is a political science major at Austin Peay State University, but in December of 2013, she was a waitress living in Georgia, trying to save enough money to earn her paralegal certificate. She hoped to someday attend a four-year university.
When Delgadillo hung up the phone that December morning, she realized this was her chance to go to college. To win the scholarship, she had to throw more footballs through a small target than another Dr. Pepper contestant. With only three weeks until the Cotton Bowl, she bought and borrowed several footballs and got to work training.
"I practiced everyday for the three weeks, two hours in the morning and two at night," she said. "But the closer we got to the competition, the less confident I felt because we didn't really have a strategy. I was just throwing."
Delgadillo's husband, Brian, is a soldier in the U.S. Army, and one afternoon he mentioned the upcoming competition to his staff sergeant. The staff sergeant had been a football coach, so he started showing up at Delgadillo's house.
"I was completely saved," she said. "He taught me different ways to throw. He taught me how to throw a spiral. He made me do drills and running. It was boot camp."
On January 2nd, Dr. Pepper flew Delgadillo and her husband to Dallas, Texas. By that afternoon, she was inside the massive AT&T Stadium, home of the Dallas Cowboys.
"I was super nervous," she said. "It was huge, but I was so scared, I didn't enjoy it."
Delgadillo and her opponent stepped onto the field and stood next to bins filled with footballs. They were told a buzzer would go off, and then they'd have 30 seconds to get as many footballs as they could into a target down field.
"Once that buzzer went off, I swear I didn't care about anything and I couldn't hear anything," she said. "The only thing I knew was there was a football and it needed to go into the hole. The first footballs, I remember I missed. But I just kept throwing and throwing, and then the buzzer went off again."
Her opponent threw eight footballs into the target. Delgadillo threw nine. That one extra football earned her a $100,000 scholarship.
"They handed me the check, and I was so overwhelmed and I didn't know if I wanted to cry or what," she said. "My husband hugged me. A huge weight was lifted off my shoulders."
Delgadillo started investigating different colleges around the country, but then she learned her husband was being stationed at Fort Campbell. Someone mentioned there was a university nearby, so she went online to check out Austin Peay.
"I thought by the pictures that the campus was absolutely beautiful," she said. "I thought, 'I love this.' And they had a political science major there."
She applied and was accepted to APSU. Three weeks before the fall 2014 semester started, she arrived to take a look at the campus.
"When I arrived here, I knew this was the right decision," she said. "I was a little bit intimidated because the campus is so big and everyone is so professional, but they were also friendly."
Delgadillo is now finishing up her first semester at APSU. Without the worry of paying for tuition, books or other necessities, she's focusing on her studies and hoping to graduate in two years. Then, with the remainder of her $100,000 scholarship, she plans to attend law school.
A video of her story is being broadcast during college football games on Fox Sports this month. The video is available to view online at http://www.foxsports.com/college-football/video?vid=343073347668