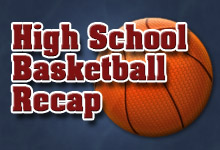 Clarksville, TN – With the 2014 High School Basketball Jamboree complete, the basketball season officially began in Clarksville last week. Boys and Girls varsity high school teams hit the court at home or on the road trying to get a good start to a long season.
Most of the teams started their action on Tuesday, November 11th and played at least a couple of games last week, including some Hall of Fame games.
Girls Basketball
The Kenwood Lady Knights charged their way to at least one victory last week. The Lady Knights defeated Pope John Paul II, 64-59, in their Hall of Fame game at home. The Rossview Lady Hawks also earned a win. They took down Gallatin on the road, 60-41.
The Northeast Lady Eagles put marks in both the win and loss column last week. First, they lost their Hall of Fame match up Tuesday against the Oakland Lady Patriots, 64-28. However, they bounced back with a winning trip across town. They strafed the Montgomery Central Lady Indians, 64-19.
The Lady Indians were not the only teams to have a rough start last week. Both the Clarksville High Lady Wildcats and the Northwest Lady Vikings lost two games last week.
The Lady Wildcats struggled in both of their Hall of Fame games. First, they lost a close game at home to the Beech Lady Buccaneers, 38-43. Then, they were tamed on the road by the Sycamore Lady War Eagles, 66-53.
The Northwest Lady Vikings opened the season with a loss on the road to the Lighthouse Christian Lady Lions, 49-53. Next, they made it a losing streak with a 64-42 loss to the Portland Lady Panthers.
Top Scorers:
Deja Smith 20 against Clarksville High Tuesday, Nov. 11
Wendy Johnson 26 against Kenwood Tuesday, Nov. 11
Jasmine Johnson 24 against Pope John Paul II Thursday, Nov. 13
Araven Gilbert 17 against Northwest Tuesday, Nov. 11
Taylor Senseney 15 against Lighthouse Christian, Tuesday, Nov. 11
Boys Basketball
Like their female counterparts, the Rossview Hawks and the Kenwood Knights earned wins in week one. The Hawks have started the season 2-0. First, they opened with a 46-37 win over Gallatin last Monday. They followed up with a 41-38 win over the Portland Panthers Friday night.
The Knights also finished week one 2-0. They dominated the Community High Vikings 70-37, in their Hall of Fame Game. Then, they won a nail biter at home against Pope John Paul II, 60-61.
The Eagles, Wildcats and Indians all split games (1-1) last week. The Wildcats win came against the Sycamore War Eagles Tuesday, 68-43. The Eagles took down the Antioch Bears, 60-54, on Friday. The Indians dominated Jo Byrns on Thursday, 62-24.
The West Creek Coyotes opened the season with a 79-59 loss to Station Camp. The Northwest Vikings squeezed in four games last week, but were unable to get their first victory.
Top Scorers:
Jaylan Thorpe 18 against Antioch Friday, Nov. 14
Keith Dowlen 26 against Pope John Paul II Thursday, Nov. 13
Chase Nappier 20 against Northwest, Tuesday Nov. 11
Teal Young 16 against Beech Tuesday, Nov. 11