Austin Peay Sports Information

Clarksville, TN – Junior Tiasha Gray scored 33 points – her second 30-point effort of the 2014-15 campaign – but Austin Peay State University women's basketball team could not recover from an early drought in a 91-68 nonconference loss to Western Kentucky, Tuesday night, at the Dunn Center.
Gray's 33-point outing came on a night that saw her shoot 12-of-22 (54.5 percent) from the floor and 4-of-7 (57.1 percent) from three-point range.
She also had six assists, five steals and three rebounds in her 40-minute outing.
Western Kentucky (9-2) took control of the game early in the first half. The Lady Toppers used a 19-1 run over a 4:44 span to turn a 6-6 tie into a 25-7 lead at the 12:57 mark.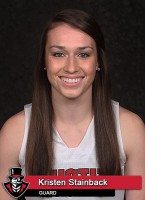 However, that was the start of a larger 35-9 run that lasted over nine minutes that truly put the game out of reach at 41-15 with 8:25 left. WKU senior Chastity Gooch scored 15 points during the game's opening 8:49, including 11 during her team's game-breaking run.
Austin Peay (2-8) recovered its feet after the lead reached its zenith, countering with a 12-3 run that cut the deficit to 17 points with 3:50 left. Gray and senior Kristen Stainback each supplied five points during that burst. Western Kentucky stemmed the Lady Govs run and took a 51-31 lead into halftime.
The Lady Toppers opened the second half by pushing its lead back to 28 points, 72-44, in the opening nine minutes.
Again, Austin Peay responded to WKU's largest lead of the contest, piecing together a 15-2 run to get back within 15 points, 74-59, with 6:31 remaining. Gray supplied 12 points in that latter run, including eight straight APSU points.
Western Kentucky again was able to halt the Austin Peay advance when its lead was trimmed to 15 points. The Lady Toppers closed the game with a 12-4 run to set the final margin.
Austin Peay could not overcome Western Kentucky's 52-21 rebounding advantage. The Lady Toppers grabbed 21 offensive rebounds and posted a 27-8 edge in second-chance points to help their cause.
Chastity Gooch finished with 32 points and eight rebounds while playing just 29 minutes. Aleixs Govan added 17 points while Kendall Noble finished with a 14-point, 10-rebound double-double.
Austin Peay begins a 30-day road trip when it travels to Montana for the Lady Griz Holiday Classic, Friday and Saturday. The Lady Govs will meet Saint Louis in a 6:30pm (CT), Friday contest to start their tourney action.
Video – Carrie Daniels
Box Score
Austin Peay 68 (2-8) vs Western Kentucky 91 (9-2)
| | 1 | 2 | Total | Records |
| --- | --- | --- | --- | --- |
| Western Kentucky | 51 | 40 | 91 | 9-2 |
| Austin Peay | 31 | 37 | 68 | 2-8 |
Western Kentucky 91
##
Player
FGM-FGA
3FGM-3FGA
FTM-FTA
OFF-DEF
TOT
PF
TP
A
TO
BLK
STL
MIN
30
Gooch, Chastity
14-26
4-6
0-0
2-6
8
2
32
2
1
2
2
29
21
Govan, Alexis
8-13
0-2
1-2
3-3
6
1
17
5
5
0
1
34
12
Noble, Kendall
5-10
0-1
4-5
6-4
10
1
14
5
1
1
3
35
5
Jones, Micah
3-9
3-8
0-0
2-6
8
0
9
8
1
0
3
36
24
Johnson, Ileana
2-5
1-4
0-0
3-1
4
1
5
4
2
0
0
22
23
Brown, Ivy
1-4
0-1
2-2
2-3
5
2
4
0
2
0
1
15
33
McClain, Jalynn
2-3
0-0
0-0
0-1
1
1
4
0
0
0
0
13
10
Brown, Tashia
1-2
1-1
0-0
1-2
3
2
3
1
3
0
0
7
11
Gaines, Bria
1-1
0-0
1-2
0-2
2
0
3
0
0
1
0
4
0
TEAM
0-0
0-0
0-0
2-1
3
0
0
0
0
0
0
0
15
Savickaite, Ruta
0-0
0-0
0-0
0-1
1
0
0
0
0
0
0
4
14
Muhammad, Kierra
0-0
0-0
0-0
0-1
1
0
0
0
0
0
0
1
Totals
37-73
9-23
8-11
21-31
52
10
91
25
15
4
10
200
Percentages
50.7%
39.1%
72.7%
Austin Peay 68
##
Player
FGM-FGA
FGM3-FGA3
FTM-FTA
OFF-DEF
TOT
PF
TP
A
TO
BLK
STL
MIN
01
Gray, Tiasha
12-22
4-7
5-6
0-3
3
2
33
6
1
0
5
40
25
Banks, Tearra
5-8
0-0
1-3
3-1
4
2
11
0
1
1
1
19
04
Stainback, Kristen
3-10
0-5
1-1
0-0
0
1
7
1
3
0
0
26
24
Rates, Beth
3-7
0-0
0-0
1-2
3
0
6
1
3
1
0
26
42
Norton, Symantha
0-1
0-0
0-0
0-3
3
0
0
0
1
0
0
14
12
Rich, Madison
3-6
2-4
0-0
0-0
0
0
8
0
1
0
0
15
23
Gooch, Sydney
1-4
0-0
0-0
2-2
4
1
2
2
2
0
1
23
21
Nwokocha, Jennifer
0-0
0-0
1-2
0-1
1
1
1
0
0
0
1
11
03
Rivers, April
0-0
0-0
0-0
0-0
0
1
0
0
1
0
0
1
44
Scott, Jacey
0-3
0-2
0-0
0-2
2
1
0
6
0
0
4
25
TM
TEAM
0-0
0-0
0-0
0-1
1
0
0
0
0
0
0
0
Totals
27-61
6-18
8-12
6-15
21
9
68
16
13
2
12
200
Percentages
44.3%
33.3%
66.7%