Austin Peay Sports Information

Richmond, KY – Austin Peay State University women's basketball team overcame a 16-point deficit to down Eastern Kentucky, 81-71, in the Ohio Valley Conference opener for both teams, Saturday, at McBrayer Arena.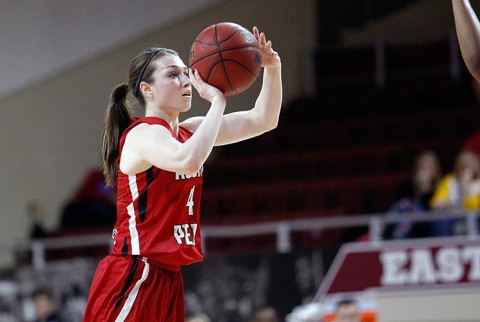 Things looked bleak for Austin Peay (4-10, 1-0 OVC) early in the second half.
Eastern Kentucky scored on each of its first six possessions and opened up a 16-point, 52-36, lead after Michaela Hunter's jumper at the 16:58 mark.
Senior guard Kristen Stainback halted the run with a three-pointer on Austin Peay's next possession.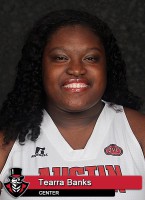 However, Eastern Kentucky still held a 12-point, 57-45, lead with 13:21 left sophomore center Tearra Banks hit a layup to spark a 14-2 game-tying run over the next eight minutes. Five different APSU players scored during the run, freshman Brianne Alexander tying the game with a free-throw with 5:40 left.
Junior Tiasha Gray followed with two more free throws, giving APSU its first lead of the half. Later, Stainback would hit three pointers on back-to-back possessions to extend the APSU lead to 10 points, 71-61, with 2:31 remaining.
Eastern Kentucky(5-6, 0-1 OVC) scored six straight points, converting on a pair of Austin Peay turnovers, to trim the Austin Peay lead to four points in just 39 seconds. The Lady Govs steadied themselves and closed the game with an 8-1 run to set the final margin.
Austin Peay scored the game's first points and held a lead for more than nine minutes in the first half. Nwokocha pushed the APSU lead to five points, 9-4, 3:47 into the game. Eastern Kentucky took the lead on a Hunter tip-in at the 12:33 mark and used a 7-0 run to push its lead to six points three minutes later.
Hunter would close the first half with back-to-back baskets by Hunter to secure an eight-point, 40-32, halftime lead.
Stainback finished with a season-best 26 points on an impressive 9-of-13 (69.2 percent) shooting effort, which included a 6-of-9 effort from three-point range. Gray added a 14-point, 11-assist, 4-steal outing.
Banks came off the bench to post a 17-point, 6-rebound performance. Nwokocha added a 14-point, 7-rebound effort.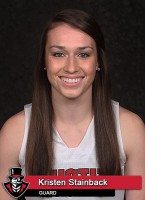 Austin Peay tied a season high with 22 assists while making 27-of-55 (49.1 percent) of its shots.
Eastern Kentucky's Hunter led all scorers with 26 points and Shameekia Murray added 22 points.
However, no other Colonels player scored more than eight points.
Austin Peay returns to action when it travels to Jacksonville State for a 5:30pm (CT) OVC contest.
Box Score
Eastern Kentucky 71 (5-6 0-1 OVC) vs Austin Peay 81 (4-10 1-0 OVC)
| | 1 | 2 | Total | Records |
| --- | --- | --- | --- | --- |
| Austin Peay | 32 | 49 | 81 | 4-10 (1-0 OVC) |
| Eastern Kentucky | 40 | 31 | 71 | 5-6 (0-1 OVC) |
Austin Peay 81
##
Player
FGM-FGA
3FGM-3FGA
FTM-FTA
OFF-DEF
TOT
PF
TP
A
TO
BLK
STL
MIN
4
Stainback, Kristen
9-13
6-9
2-2
2-0
2
2
26
5
5
1
2
40
21
Nwokocha, Jennifer
5-8
0-0
4-4
2-5
7
1
14
2
5
0
1
31
1
Gray, Tiasha
2-10
2-5
8-8
0-5
5
1
14
11
5
0
4
40
11
Alexander, Brianne
2-4
0-0
4-8
0-5
5
3
8
0
2
1
1
16
24
Rates, Beth
1-6
0-1
0-0
2-2
4
2
2
1
2
2
2
22
25
Banks, Tearra
8-13
0-0
1-4
1-5
6
3
17
1
2
0
0
19
23
Gooch, Sydney
0-0
0-0
0-0
0-1
1
1
0
0
2
0
0
3
42
Norton, Symantha
0-0
0-0
0-0
0-1
1
0
0
0
1
0
0
8
0
TEAM
0-0
0-0
0-0
1-1
2
0
0
0
0
0
0
0
44
Scott, Jacey
0-1
0-1
0-0
0-4
4
0
0
1
0
0
1
16
12
Rich, Madison
0-0
0-0
0-0
0-0
0
0
0
1
0
0
0
5
Totals
27-55
8-16
19-26
8-29
37
13
81
22
24
4
11
200
Percentages
49.1%
50.0%
73.1%
Eastern Kentucky 71
##
Player
FGM-FGA
FGM3-FGA3
FTM-FTA
OFF-DEF
TOT
PF
TP
A
TO
BLK
STL
MIN
05
Hunter, Michaela
12-25
0-6
2-2
2-6
8
1
26
2
6
1
0
34
10
Murray, Shameekia
10-22
2-6
0-0
3-3
6
1
22
0
4
0
3
33
20
Harper, Shelly
2-7
0-0
0-0
2-5
7
1
4
4
0
0
2
28
52
Bowers, Nicole
2-5
0-1
0-0
0-0
0
1
4
1
0
0
0
20
01
Stafford, Jasmine
1-4
0-0
1-2
2-3
5
3
3
5
4
0
3
31
21
Henshaw, Jasmine
4-5
0-0
0-0
0-1
1
5
8
1
2
0
0
14
24
Maples, Miranda
1-6
1-3
1-2
2-3
5
3
4
2
1
2
0
16
03
Massengill, Mariah
0-2
0-1
0-0
0-1
1
2
0
2
2
0
1
12
04
Cooper, Alexus
0-3
0-0
0-0
1-0
1
1
0
1
1
0
0
6
55
Drake, Cierra
0-0
0-0
0-2
1-0
1
0
0
0
0
0
0
4
TM
TEAM
0-0
0-0
0-0
4-1
5
0
0
0
0
0
0
0
23
Pippen, Katie
0-0
0-0
0-0
0-0
0
0
0
1
1
0
0
2
Totals
32-79
3-17
4-8
17-23
40
18
71
19
21
3
9
200
Percentages
40.5%
17.6%
50.0%