Austin Peay Sports Information

Clarksville, TN – Junior Tiasha Gray scored 31 points but Austin Peay State University women's basketball team could not overcome an early deficit in an 82-72 Ohio Valley Conference loss to Morehead State, Monday, at the Dunn Center.
Austin Peay (6-13, 3-3 OVC) got out of the gate slowly, failing to convert on its first five possessions. However, they only trailed 6-0 after that game-opening drought. Gray broke APSU's drought with layups on back-to-back possessions, cutting the deficit to two points.
Morehead State (8-11, 4-2 OVC) would answer on its next possession, a story that would hold true most of the night. Austin Peay would get within two points nine times in the contest only to watch Morehead State answer on its next possession seven times.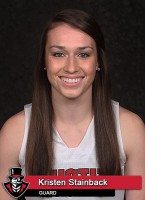 The Eagles fended off another run that saw Austin Peay close to within a point, 19-18, courtesy a Kristen Stainback three-pointer with 10:33 left. Morehead State scored the next eight points to build a nine-point lead in just three minutes.
A later 7-0 run pushed the Eagles lead to its largest margin – 11 points, 40-29 – with 52 seconds left. Austin Peay would trim the deficit to seven points, 40-33, at halftime.
Austin Peay opened the second half with a 12-5 run with Gray scoring six of the opening 12 points. Her layup just 3:34 into the half tied the contest, 45-45.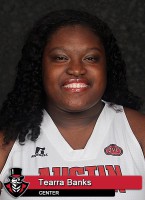 Morehead State again answered on its next possession, but Austin Peay against scored to tie the game with Tearra Banks' layup at the 15:45 mark.
Morehead State again threatened to break the game open, this time courtesy 12-2 run over the next four minutes. Austin Peay countered with an 11-2 run of its own to get back within a point, 61-60, in the next three minutes.
Austin Peay again couldn't take the lead but kept the game close over the next three minutes and again tied the game, 66-66, with Gray' jumper at the 4:43 mark. But Morehead State answered with a three-pointer and Austin Peay would not threaten the game's remainder.
Gray's 31 points came thanks to a 12-of-14 performance from inside the arc that was part of a 14-of-25 shooting night.
It was her third 30-point outing this season and she added seven assists, six rebounds and four steals to her final tally.
Gray was matched by Morehead State guard Almesha Jones who had 27 points, nine assists, five steals and three rebounds.
However, it was Morehead State's posts that proved the difference in the contest. Shay Steele and Eriel McKee each posted double-doubles, Steele leading the frontcourt effort with a 17-point, 11-rebound outing while McKee had a 12-point, 11-rebound performance.
That duo also combined for a 9-of-15 outing at the free-throw line to help pace the Eagles 17-of-24 outing at the line.
It easily proved the difference in the contest as Austin Peay was held to season lows in free throws made (7) and attempted (8).
Austin Peay will get a much-needed week long break before returning to OVC action with a 1:00pm, Saturday contest at Eastern Illinois.
Video – Coach Carrie Daniels
Box Score
Austin Peay 72 (6-13 3-3 OVC) vs Morehead State 82 (8-11 4-2 OVC)
| | 1 | 2 | Total | Records |
| --- | --- | --- | --- | --- |
| Morehead State | 40 | 42 | 82 | 8-11 (4-2 OVC) |
| Austin Peay | 33 | 39 | 72 | 6-13 (3-3 OVC) |
Morehead State 82
##
Player
FGM-FGA
3FGM-3FGA
FTM-FTA
OFF-DEF
TOT
PF
TP
A
TO
BLK
STL
MIN
4
Jones, Almesha
8-15
3-6
8-9
0-3
3
2
27
9
2
0
5
40
14
Steele, Shay
7-12
0-0
3-7
4-7
11
2
17
1
2
0
0
33
32
McKee, Eriel
3-9
0-1
6-8
3-8
11
1
12
0
1
1
2
38
23
Viela, Maiki
3-10
1-2
0-0
0-0
0
1
7
0
1
0
0
20
1
Ryans, Casey
2-4
0-1
0-0
4-6
10
1
4
3
3
0
0
26
21
Greenwell, Natalie
5-11
1-4
0-0
2-1
3
1
11
0
2
0
1
21
20
Todd, Brooke
2-5
0-0
0-0
4-1
5
0
4
0
1
1
0
21
34
Wells, Aaliyah
0-0
0-0
0-0
0-0
0
0
0
0
0
0
0
1
0
TEAM
0-0
0-0
0-0
0-2
2
0
0
0
2
0
0
0
45
Arledge, Mackenzie
0-0
0-0
0-0
0-0
0
0
0
0
0
0
0
0+
Totals
30-66
5-14
17-24
17-28
45
8
82
13
14
2
8
200
Percentages
45.5%
35.7%
70.8%
Austin Peay 72
##
Player
FGM-FGA
FGM3-FGA3
FTM-FTA
OFF-DEF
TOT
PF
TP
A
TO
BLK
STL
MIN
1
Gray, Tiasha
14-25
2-11
1-2
2-4
6
4
31
7
5
1
4
40
4
Stainback, Kristen
5-11
3-6
0-0
0-3
3
1
13
1
1
0
1
37
24
Rates, Beth
3-7
0-0
0-0
4-3
7
4
6
1
1
1
1
26
11
Alexander, Brianne
0-2
0-0
4-4
1-1
2
3
4
1
2
1
1
16
21
Nwokocha, Jennifer
1-6
0-0
0-0
0-2
2
0
2
1
1
0
0
17
25
Banks, Tearra
5-11
0-0
0-0
1-4
5
2
10
0
2
0
0
22
12
Rich, Madison
2-3
0-1
0-0
0-1
1
0
4
1
1
0
0
20
44
Scott, Jacey
0-2
0-1
2-2
0-0
0
1
2
0
0
0
1
9
23
Gooch, Sydney
0-0
0-0
0-0
0-3
3
1
0
0
1
0
0
13
TM
TEAM
0-0
0-0
0-0
2-2
4
0
0
0
0
0
0
0
Totals
30-67
5-19
7-8
10-23
33
16
72
12
14
3
8
200
Percentages
44.8%
26.3%
87.5%