APSU Sports Information

Charleston, IL – Junior guard Tiasha Gray scored 32 points to lead Austin Peay State University women's basketball team to a 66-63 Ohio Valley Conference victory against Eastern Illinois, Saturday, at Lantz Arena.
Gray scored 11 of Austin Peay's final 13 points, including nine points from the free-throw line, to help secure the victory.
She became the first Lady Govs player to record back-to-back 30-point games since Brooke Armistead during the 2001-02 season. Gray also had 11 rebounds – her fifth double-double this season – five steals and three assists.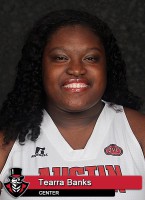 Austin Peay (7-13, 4-3 OVC) led by 13 points, 45-32, after Gray found sophomore Jacey Scott, who hit a three-pointer with just 4:32 into the second half. The Lady Govs still led by 10 points after sophomore Tearra Banks converted a traditional three-point play – again with an assist from Gray – at the 9:47 mark.
Eastern Illinois (7-14, 4-4 OVC) methodically pieced together a 10-1 run that consumed nearly four minutes off the clock. The Panthers cutting a nine-point deficit with 6:58 left to just one point, 59-58, with 2:17 left.
Gray would hit a pair of free throws to stem the tide and Austin Peay followed with a key defensive stop. However, Austin Peay could not convert and saw Eastern Illinois hit a layup to get back within a point with 30 seconds left.
Stainback hit a pair of free throws on the next APSU possession and Gray grabbed a rebound to solidify another APSU defensive stop. However, Gray hit only one of two free throws to push the APSU lead to four points with 12 seconds left.
Eastern Illinois didn't go away with Shakita Cox hitting a three-pointer on the next possession to trim the lead back to one point. The Panthers fouled Gray again with 3.1 seconds left  and this time she hit both free throws. An Eastern Illinois three-pointer at the horn harmlessly hit the front of the rim.
Austin Peay controlled the game's opening eight minutes. The Lady Govs scored the game's first nine points – Gray responsible for seven on her own – and held a seven-point lead, 15-8 at the 12:22 mark.
Austin Peay was held to one field goal over a five-minute span as Eastern Illinois pieced together an 11-3 run to take its only lead of the first half, 19-17, at the 8:52 mark after a layup by Cox.
The Lady Govs scored the game's next 11 points, including five points by Banks, to grab a nine-point, 28-19 lead with 4:10 left. Austin Peay would nurse that advantage into the halftime break, leading 33-25.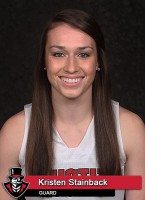 Gray's double-double led Austin Peay but senior Kristen Stainback and Banks joined her in double-digit scoring territory. Stainback hit a pair of three pointers as part of a 14-point outing. Banks was 5-of-7 from the floor and finished with a 12-point, six-rebound outing.
Bh'rea Griffin led Eastern Illinois with 12 points off the bench. Sabina Oroszova had an 11-point, 11-rebound double-double before fouling out. Erica Brown and Cox each added 11 points.
Austin Peay, which improved to 3-1 on the road in OVC play, continues its Illinois swing in five days when it meets SIU Edwardsville for a 7:00pm, Wednesday contest in Edwardsville, IL.
Box Score
Eastern Illinois 63 (7-14 4-4 OVC) vs Austin Peay 66 (7-13 4-3 OVC)
| | 1 | 2 | Total | Records |
| --- | --- | --- | --- | --- |
| Austin Peay | 33 | 33 | 66 | 7-13 (4-3 OVC) |
| Eastern Illinois | 25 | 38 | 63 | 7-14 (4-4 OVC) |
Austin Peay 66
##
Player
FGM-FGA
3FGM-3FGA
FTM-FTA
OFF-DEF
TOT
PF
TP
A
TO
BLK
STL
MIN
1
Gray, Tiasha
9-21
3-7
11-14
2-9
11
1
32
3
4
1
5
40
4
Stainback, Kristen
5-11
2-5
2-2
0-1
1
1
14
1
0
0
1
40
21
Nwokocha, Jennifer
1-5
0-0
0-0
1-2
3
1
2
1
0
0
1
19
11
Alexander, Brianne
0-2
0-0
1-3
0-3
3
5
1
2
3
0
0
19
24
Rates, Beth
0-7
0-0
0-0
2-1
3
2
0
3
1
0
0
29
25
Banks, Tearra
5-7
0-0
2-3
2-4
6
2
12
0
2
0
0
19
44
Scott, Jacey
2-4
1-3
0-0
0-6
6
2
5
1
0
0
0
28
12
Rich, Madison
0-1
0-1
0-0
0-0
0
0
0
2
0
0
0
3
23
Gooch, Sydney
0-0
0-0
0-0
0-0
0
0
0
0
0
0
0
3
0
TEAM
0-0
0-0
0-0
2-2
4
0
0
0
0
0
0
0
Totals
22-58
6-16
16-22
9-28
37
14
66
13
10
1
7
200
Percentages
37.9%
37.5%
72.7%
Eastern Illinois 63
##
Player
FGM-FGA
FGM3-FGA3
FTM-FTA
OFF-DEF
TOT
PF
TP
A
TO
BLK
STL
MIN
10
Oroszova, Sabina
5-13
1-2
0-0
4-7
11
5
11
4
2
2
1
32
23
Cox, Shakita
4-8
2-5
1-2
1-1
2
1
11
1
4
1
2
31
11
Brown, Erica
4-9
0-0
3-7
2-5
7
3
11
0
0
4
1
27
20
Thomas, Arnisha
3-11
0-4
0-2
0-0
0
0
6
1
0
0
0
18
5
Lennox, Grace
2-5
0-1
0-0
0-2
2
1
4
0
0
0
1
21
3
Griffin, Bh'rea
4-9
2-4
2-2
1-2
3
3
12
6
1
0
2
29
44
Martin, Morgan
3-5
0-0
0-0
1-3
4
4
6
2
1
0
0
16
30
Tate, Kandace
1-1
0-0
0-0
0-1
1
0
2
0
0
0
0
4
1
Johnson, Phylicia
0-2
0-1
0-0
1-2
3
3
0
0
2
0
0
22
TM
TEAM
0-0
0-0
0-0
1-6
7
0
0
0
0
0
0
0
Totals
26-63
5-17
6-13
11-29
40
20
63
14
10
7
7
200
Percentages
41.3%
29.4%
46.2%