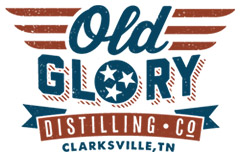 Clarksville, TN – Construction of the Old Glory Distillery has begun on Alfred Thun road and the President of Old Glory Distilling Co., Matt Cunningham shared designs, future products and his motivations to start the project in a presentation at the Hilton Garden Inn, Friday, February 6th.
Several people including Tennessee Senator Mark Green and the Executive Director of the Clarksville Convention & Visitors Bureau (CVB) Theresa Harrington were in attendance and spoke along with Cunningham at the event.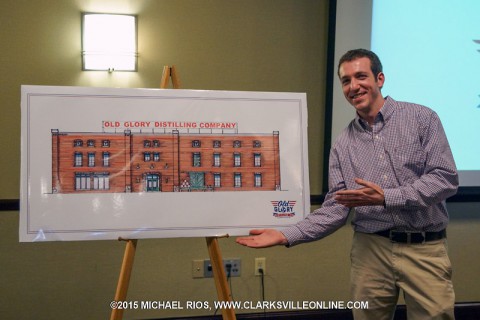 After sharing his background as a local that went away to college at the University of Arkansas at Fayetteville and then returned to serve as a firefighter, Cunningham explained one of the primary reasons he wanted to bring the distillery to Clarksville.
"I really wanted to do something and bring something that everybody would be excited about and proud of, something people would want to share with their family and friends when they came in, something people would want to tour when they visited," Cunningham said.
The site plans, which were approved by the Regional Planning Commission back in 2013, cover seven acres and will include an aging house plus a main building with a gift shop, tasting room and event center overlooking the distillery. It is located on Alfred Thun road near the Hilton Garden Inn and Beachaven Winery. According to Cunningham, the sites location was a key component to the project.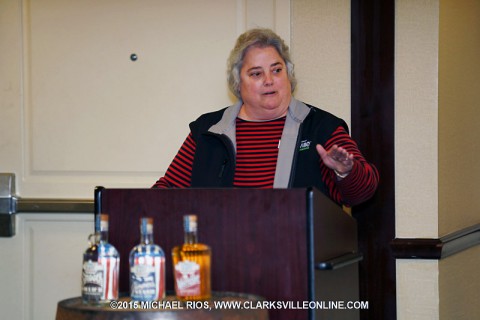 "Location was huge," Cunningham said. "It was very important for everything we were trying to accomplish. To bring something to Clarksville that was going to put a mark on Clarksville."
The distillery will be housed in the main building and will feature two, 500 gallon American made pot stills. One is a stripping still and one is a finishing still. Both will be visible through glass from the tasting room, gift shop and event center in the same building which has a mezzanine and will seat up to 350 people. The building was designed by members of JTMJ Architecture.
"We really want you, when you do have your event, to feel like you're having the event at the distillery," Cunningham said. In addition to hosting events like conferences, receptions and marriages, Cunningham said they will host bottling parties so community members can be a part of the distilling process.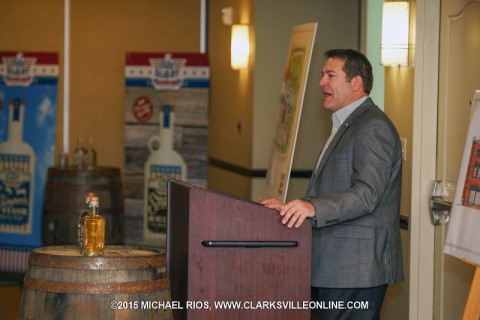 According to Cunningham, the distillery will primarily produce aged products-Tennessee whiskey and bourbon. However, he did reveal some "white spirits" such as the Smooth Shine Moonshine, Tennessee Vodka and the Jumpers Stash White Rum named in honor of the paratroopers stationed at Fort Campbell.
Cunningham credited Dave Scherurich, a former general manager and master distiller at the Woodford Reserve, with having a major role in the distillery, especially product development.
Senator Green said the distillery will bring a lot of jobs, attention and tourism to Clarksville because of the overall growth of bourbon and Tennessee Whiskey over the last five years. According to Green, Tennessee whiskey and bourbon have grown 20 percent domestically over the last five years and that Tennessee is the number one distilled spirits exporter in the United States.
Like Green, Harrison was excited about the potential gains the new distillery will provide for the area. "For tourism, it is going to be a great plus for us," Harrison said. "We are honored to be able to bring our groups, our visitors to another attraction here in Montgomery County."
Photo Gallery