APSU Sports Information

Clarksville, TN – Austin Peay State University men's basketball has struggled offensively most of the season but Thursday night may have been its worst offensive performance this season.
The Governors shot just 23.3 percent (7 of 30) from the floor in the second half as Eastern Illinois pulled away for a 66-55 victory in Dave Aaron Arena.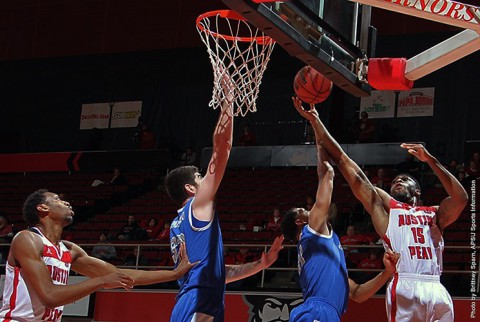 It was the Governors fifth straight loss since defeating the Panthers, January 24th, in Charleston, IL.
The loss drops the Govs to 7-18 overall and 2-9 in the OVC while Eastern Illinois improves EIU to 15-10 overall and 8-4 in the OVC.
Only senior forward Chris Freeman proved effective offensively for the Governors, going 8-of-11 from the floor while scoring 20 points and grabbing nine rebounds. The rest of his teammates went a combined 10 of 43 (23 percent), including his fellow inside running mate Chris Horton, who scored 13 points but on just 3-of-16 shooting.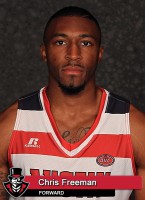 The Governors shot a respectable 46 percent (11 of 24) in the first half and led 31-29 late in the period. However, EIU closed the half on a 10-0 run while committing three turnovers and missing a shot in the final 2:23 as the Panthers led 39-31 at halftime.
The Panthers built an early 10-point lead to open the half but the Governors ran off 10 straight of their own to tie the game 41-41 with 11:38 left. But Reggie Smith responded by driving the lane for a layup and senior forward Josh Piper hit back-to-back jumpers to push it back to six.
After the teams traded pairs of free throws, Freeman tipped in a Horton miss before Josh Robinson responded with a jumper, cutting the deficit to two, 49-47.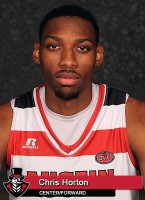 But EIU freshman point guard Cornell Johnston, who struggled in APSU's win in Charleston, knocked down a three pointer from the left wing to make it a 57-52 contest. APSU would get no closer.
Johnston led all scorers with 20 points, going 7-of-7 from the floor. He also had eight assists, leaving him two shy of the Panthers' freshman record of 115.
Trae Anderson had 19 for EIU, which shot 26 of 44 (56.8 percent) from the floor.
APSU out-rebounded EIU by a decisive 36-24 margin, leading to 16 second-chance points—sometimes needing third and fourth-chance opportunities as the Govs could not convert multiple point-blank opportunities.
Video – Coach Dave Loos
Box Score
Austin Peay 55 (7-18 2-9 OVC) vs Eastern Illinois 66 (15-10 8-4 OVC)
| | 1 | 2 | Total | Records |
| --- | --- | --- | --- | --- |
| Eastern Illinois | 39 | 27 | 66 | 15-10 (8-4 OVC) |
| Austin Peay | 31 | 24 | 55 | 7-18 (2-9 OVC) |
Eastern Illinois 66
##

Player

FGM

-FGA

3FGM

-3FGA

FTM

-FTA

OFF

-DEF

TOT

PF

TP

A

TO

BLK

STL

MIN

2
Johntson, Cornell
7-7
4-4
2-2
0-0
0
1
20
8
3
0
0
39
15
Anderson, Trae
7-10
0-1
5-5
0-6
6
4
19
2
4
1
1
26
33
Piotrowski, Luke
3-5
0-0
1-1
1-3
4
2
7
1
2
3
2
25
3
Viser, LeTrell
2-8
0-5
0-0
0-2
2
4
4
2
4
1
3
26
30
Chatman, Dylan
0-2
0-0
0-0
0-6
6
1
0
5
0
0
1
32
5
Smith, Reggie
2-3
1-1
2-3
0-1
1
3
7
0
2
0
0
14
55
Piper, Josh
3-4
0-1
0-0
0-1
1
0
6
0
0
0
0
7
11
Johnson, Anthony
1-1
0-0
1-2
0-1
1
1
3
0
1
0
1
8
41
Piotrowski, Mat
0-3
0-1
0-0
0-1
1
2
0
0
0
1
0
11
10
Norman, Luke
0-0
0-0
0-0
0-1
1
1
0
1
0
0
0
8
12
Anderson, Keenen
0-0
0-0
0-0
0-0
0
2
0
0
1
0
0
4
25
Verhagen, Jake
0-1
0-1
0-0
0-0
0
1
0
0
0
0
0
0+
0
TEAM
0-0
0-0
0-0
1-0
1
0
0
0
1
0
0
0
Totals
25-44
5-14
11-13
2-22
24
22
66
19
18
6
8
200
Percentages
56.8%
35.7%
84.6%
Austin Peay 55
##

Player

FGM

-FGA

FGM3

-FGA3

FTM

-FTA

OFF

-DEF

TOT

PF

TP

A

TO

BLK

STL

MIN

15
Freeman, Chris
8-11
0-0
4-4
5-4
9
3
20
0
1
1
1
29
5
Horton, Chris
3-16
0-0
7-9
4-5
9
1
13
0
4
2
0
40
24
Dyson, Ed
2-7
0-4
3-4
0-1
1
0
7
1
1
0
3
31
11
Davis, Khalil
0-6
0-2
2-4
1-3
4
2
2
1
2
1
3
29
22
Smith, Damarius
1-2
0-0
0-0
0-1
1
4
2
1
4
0
1
21
4
Robinson, Josh
3-7
1-3
1-3
1-1
2
1
8
0
2
0
0
22
1
Diop, Assane
1-2
1-2
0-0
0-1
1
3
3
0
0
0
0
11
12
Purvis, Jeremy
0-3
0-3
0-0
1-2
3
2
0
0
0
0
0
17
23
Mboup, Serigne
0-0
0-0
0-0
0-0
0
1
0
0
1
0
0
0+
TM
TEAM
0-0
0-0
0-0
5-1
6
0
0
0
0
0
0
0
Totals
18-54
2-14
17-24
17-19
36
17
55
3
15
4
8
200
Percentages
33.3%
14.3%
70.8%