Nashville, TN – The National Weather Service (NWS) has issued an ice storm warning for Clarksville-Montgomery County and Middle Tennessee which is in effect from noon today, February 20th to 9:00am CST Saturday, February 21st.
A developing storm system will spread moisture into Middle Tennessee today. With a deep layer of cold air initially in place, precipitation is expected to start out as all snow.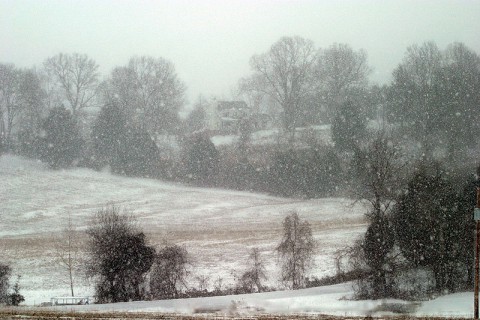 Snow will be very light this morning, then intensity will increase this afternoon. Snowfall accumulations up to 1 inch will be possible. As we move toward late afternoon and evening hours, warmer air will begin to push into the area, particularly several thousand feet above ground.
This will act to change the precipitation over to sleet and then quickly over to freezing rain by this evening. A developing surface trough will begin to setup to our north and thus the heaviest ice accumulation will be across northern areas.
1/4 to 1/2 inch of ice is expected across northern areas with up to 1/4 inch across the south. Given that a coating of ice on trees already exists across much of the area, major problems can be expected.
Warmer air will continue to move in late tonight with wintry precipitation transitioning over to all rain beginning along the Tennessee River around midnight and moving east to the plateau by 9:00am Saturday. After the changeover to rain, some heavy rainfall is possible through Saturday with the potential for localized flooding.
An ice storm warning means severe winter weather conditions are expected or occurring. Significant amounts of ice accumulations will make travel dangerous or impossible. Travel is strongly discouraged. Commerce will likely be severely impacted. If you must travel, keep an extra flashlight, food and water in your vehicle in case of an emergency. Ice accumulations and winds will likely lead to snapped power lines and falling tree branches that add to the danger.
Counties Affected
Bedford County, Cannon County, Cheatham County, Clay County, Coffee County, Cumberland County, Davidson County, De Kalb County, Dickson County, Fentress County, Giles County, Grundy County, Hickman County, Houston County, Humphreys County, Jackson County, Lawrence County, Lewis County, Macon County, Marshall County, Maury County, Montgomery County, Overton County, Perry County, Pickett County, Putnam County, Robertson County, Rutherford County, Smith County, Stewart County, Sumner County, Trousdale County, Van Buren County, Warren County, Wayne County, White County, Williamson County, and Wilson County.