Austin Peay vs. Western Michigan
February 27th, 28th & March 1st
Clarksville, TN | Raymond C. Hand Park

Clarksville, TN – Austin Peay State University Baseball will get its final preconference tune-up when it hosts Western Michigan in a three-game nonconference set. The Govs and Broncos begin their series with a 2:00pm, Friday contest.
It is scheduled to continue with a 1:00pm, Saturday affair followed by a noon, Sunday meeting.
The Govs bring a two-game win streak into the weekend after closing their Samford series with a win and picking up a midweek victory at Lipscomb, Wednesday.
In addition, APSU has a two-game home win streak dating back to the season's opening weekend.
After two weeks, sophomore third baseman Logan Gray leads the Govs with a .480 batting average and has seen seven of his 12 base hits go for extra bases. Sophomore catcher Ridge Smith is right behind him with a .440 batting average. Sophomore designated hitter Alex Robles is the team's RBI leader with eight in six games.
Austin Peay and Western Michigan will meet for the first time since the 1999 season. The Govs lead the series 2-0 with both meetings taking place in Florida. It will be the Broncos first visit to Clarksville.
First Hacks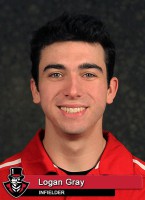 Austin Peay has not wanted for scoring opportunities through two weeks, with 96 RBI opportunities in the season's first six games, but they have just a .271 conversion rate in those plate appearances. The Govs rank among Division I's Top 40 in doubles (3rd, 3.0 per game), scoring per game (33rd, 7.8 rpg) and batting average (33rd, .312).
Sophomore third baseman Logan Gray ranks 6th among Division I hitters with 6 doubles and has a 4-game hit streak currently. Sophomore catcher Ridge Smith has a 3-game hit streak, including a 4-for-6 outing in the Samford series finale, Sunday.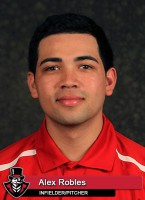 Sophomore designated hitter Alex Robles has 3 doubles and 5 RBI in his last 2 games. Sophomore outfield Cayce Bredlau hit a grand slam as part of a 1-for-3 outing with 6 RBI in the Samford series finale. Sophomore second baseman Garrett Copeland reached base safely in all 4 Week 2 contests.
Junior shortstop Clayton Smithson went 5-for-14 (.357) during the Samford series. Sophomore Chase Hamilton has been APSU's starting center fielder the last two games, going 3-for-9 at the plate.
Starting first base responsibilities were split between sophomore Dre Gleason and junior Josh Wilson during Week 2's four games. Starting right field has been even more of a question mark with three players starting there in the last four games.
Austin Peay's defense been charged with 11 errors in the first 6 games, but only 7 of those errors came courtesy the infield (3 by the catcher and 1 by the pitcher). Austin Peay was picked to finish fourth in the OVC's preseason poll of coaches and sports information directors.
Austin Peay finished 2014 with a 23-33 overall record, starting seven freshman for the bulk of the campaign. The Govs fell out of the OVC's six-team tournament field on the regular season's final day, a 4-3 loss at SIUE dropping it to 14-16 and seventh place in league action.
Toeing The Rubber
Austin Peay's rotation will remain unchanged in Week 3. Game 1 starter Jared Carkuff is 1-1 despite a 3.27 ERA as he has received an average of 3 runs of offensive support this season. Zach Hall will return to his Game 2 position this week after showing marked improvement at Samford (5.2 IP, 3 runs allowed).
Caleb Powell earned a win in his first start of 2015 as the Govs offensive supplied a season-best 17 runs in the Samford series finale. Austin Peay turned the closer duties over to A.J. Gaura during the midweek and he earned a save in his first opportunity at Lipscomb.
Inclement Weather
With inclement weather forecast for the weekend, schedule changes are possible. Schedule updates will be available at www.LetsGoPeay.com – Austin Peay's official athletics website – and on APSU Baseball's official twitter account @APSUBaseball.