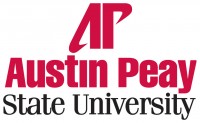 Clarksville, TN – On a gray January afternoon, Ihab Habib, Austin Peay State University associate professor of construction engineering technology, traveled to Nashville to inspect an elaborate waterslide. The slide's designers—fifth grade students at Croft Middle School—crowded around Habib, eager to explain the intricacies of their project.
"It was exciting for the students to design different slide structures and compete among one another," Habib said.
Last year, the APSU professor and his colleagues made a similar trip to H.G. Hill Middle School in Bellevue to examine a bobsled track built by seventh graders.
With a growing emphasis on STEM (Science, Technology, Engineering and Math) subjects in school curriculums, more teachers are now seeking assistance from APSU's Engineering Technology Department.
That department, housed at the Austin Peay Center at Fort Campbell, offers associate, bachelor's and master's degree programs in engineering technology, and features a state-of-the-art lab designed for rapid prototyping and additive manufacturing. After working with Nashville-area schools, the department's faculty now hopes to assist local students.
"The Engineering Technology Department extends our invitation to all Clarksville-Montgomery County schools to create projects that we will be happy to work with students on," Habib said. "We can assist in judging, and we will be glad to speak to future college students about engineering technology fields.
"We also invite middle and high school STEM teachers to arrange trips to our labs and come visit our growing program."
To contact the APSU Engineering Technology Department, email engineeringtech@apsu.edu, or call 931.221.1470.