APSU Sports Information

Carbondale, IL – Austin Peay State University used six pitchers in the first three innings as Southern Illinois posted a 14-3 nonconference rout, Wednesday night, at Itchy Jones Stadium.
Southern Illinois (4-19), which snapped a six-game losing streak, broke the game open in the first inning when right fielder JC DeMuri hit a grand slam.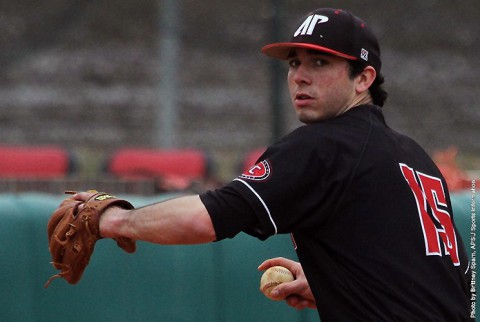 The Salukis six-run third inning – which itself equaled SIU's largest output in a game before Wednesday – was helped along by four walks and three hit batsmen by APSU pitchers.
Austin Peay (11-10) could not find a response offensively. The Govs scored lone runs in the second, fourth and ninth innings. Third baseman Logan Gray singled and scored in the second and hit a leadoff home run in the fourth to account for two of the runs. Pinch hitter Caleb Mitchell's RBI single in the ninth drove in right fielder Kyle Blackburn.
Govs starter Zach Hall (1-4) retired the first two batters he faced but unexpectedly left the game with the bases loaded and ultimately was responsible for three runs in two-thirds of an inning pitched.
Gray led the APSU offense with a 2-for-4 outing, including his solo home run. Blackburn went 2-for-2 as a late substitute, including a ninth-inning double.
Austin Peay used nine pitchers in the contest, including four in the third inning. Zach Walton tossed 2.1 innings of scoreless relief and was followed by Levi Primasing who pitched a scoreless eighth.
Southern Illinois' Alex Lesiak (1-1) picked up the win after allowing two runs in 6.1 innings. DeMuri went 1-for-4 with four RBI and second baseman Will Farmer added a 2-for-4, four RBI outing.
Austin Peay returns home for a three-game Ohio Valley Conference series against Tennessee Tech, scheduled to start with a 6:00pm, Friday contest at Raymond C. Hand Park.
Box Score
Austin Peay (11-10) -vs- Southern Illinois (4-19)
| | 1 | 2 | 3 | 4 | 5 | 6 | 7 | 8 | 9 | R | H | E |
| --- | --- | --- | --- | --- | --- | --- | --- | --- | --- | --- | --- | --- |
| Austin Peay | 0 | 1 | 0 | 1 | 0 | 0 | 0 | 0 | 1 | 3 | 10 | 1 |
| Southern Illinois | 4 | 1 | 6 | 2 | 0 | 0 | 0 | 1 | X | 14 | 10 | 0 |
W: Lesiak,Alex (1-1) L: HALL, Zach (1-4)
Austin Peay 3
| | Player | AB | R | H | RBI | BB | SO | LOB |
| --- | --- | --- | --- | --- | --- | --- | --- | --- |
| ss | SMITHSON, Clayton | 2 | 0 | 1 | 0 | 0 | 0 | 0 |
| ss | WILLIS, Imani | 3 | 0 | 0 | 0 | 0 | 2 | 0 |
| lf | BREDLAU, Cayce | 3 | 0 | 0 | 0 | 0 | 1 | 3 |
| ph | MITCHELL, Caleb | 1 | 0 | 1 | 1 | 0 | 0 | 0 |
| 2b | COPELAND, Garrett | 4 | 0 | 0 | 0 | 1 | 1 | 2 |
| rf/1b | WILSON, Josh | 3 | 0 | 1 | 0 | 1 | 0 | 2 |
| 3b | GRAY, Logan | 4 | 2 | 2 | 1 | 0 | 1 | 0 |
| 1b | GLEASON, Dre | 3 | 0 | 0 | 0 | 0 | 2 | 0 |
| p | PRIMASING, Levi | 0 | 0 | 0 | 0 | 0 | 0 | 0 |
| ph | ROBLES, Alex | 1 | 0 | 0 | 0 | 0 | 0 | 1 |
| p | COSTANZO, Michael | 0 | 0 | 0 | 0 | 0 | 0 | 0 |
| c | SMITH, Ridge | 2 | 0 | 1 | 1 | 0 | 0 | 0 |
| c | MARIK, T.J. | 1 | 0 | 1 | 0 | 1 | 0 | 0 |
| dh | PURCELL, Wesley | 1 | 0 | 0 | 0 | 0 | 1 | 0 |
| p | WALTON, Zach | 0 | 0 | 0 | 0 | 0 | 0 | 0 |
| ph/rf | BLACKBURN, Kyle | 2 | 1 | 2 | 0 | 0 | 0 | 0 |
| cf/p | HAMILTON, Chase | 3 | 0 | 1 | 0 | 1 | 1 | 1 |
| p | NEFF, Zach | 0 | 0 | 0 | 0 | 0 | 0 | 0 |
| p | CORUM, Jake | 0 | 0 | 0 | 0 | 0 | 0 | 0 |
| p | SPARKS, John | 0 | 0 | 0 | 0 | 0 | 0 | 0 |
| p | KIMBEL, Keirce | 0 | 0 | 0 | 0 | 0 | 0 | 0 |
| cf | MASSONI, Patrick | 1 | 0 | 0 | 0 | 0 | 0 | 0 |
| | Totals | 34 | 3 | 10 | 3 | 4 | 9 | 9 |
Batting
2B: BLACKBURN, Kyle (1)
HR: GRAY, Logan (1)SH: BREDLAU, Cayce (1)
Baserunning
SB: GRAY, Logan (1)
Fielding
E: CORUM, Jake (1)
Southern Illinois 14
| | Player | AB | R | H | RBI | BB | SO | LOB |
| --- | --- | --- | --- | --- | --- | --- | --- | --- |
| ss | Slone,Chase | 5 | 2 | 2 | 0 | 0 | 0 | 0 |
| 2b | Farmer,Will | 4 | 0 | 2 | 4 | 0 | 0 | 0 |
| 3b/1b | Lambert,Greg | 3 | 1 | 1 | 1 | 0 | 1 | 2 |
| dh | Hand,Jake | 3 | 2 | 1 | 1 | 2 | 1 | 2 |
| 1b | Blackfan,Logan | 2 | 2 | 1 | 0 | 1 | 0 | 0 |
| 3b | Sabo,Ryan | 2 | 0 | 0 | 0 | 0 | 0 | 0 |
| rf | DeMuri,JC | 4 | 2 | 1 | 4 | 1 | 1 | 3 |
| lf | Rolland,Tyler | 2 | 1 | 0 | 0 | 2 | 0 | 0 |
| ph | Anderson,Hunter | 1 | 0 | 0 | 0 | 0 | 0 | 0 |
| lf | Mosley,Braden | 0 | 0 | 0 | 0 | 0 | 0 | 0 |
| c | Hutchins,Nick | 5 | 2 | 2 | 3 | 0 | 0 | 1 |
| cf | Mucha,Dyllin | 2 | 2 | 0 | 0 | 2 | 0 | 0 |
| ph | Osborne,Parker | 1 | 0 | 0 | 0 | 0 | 1 | 0 |
| cf | Klein,Michael | 0 | 0 | 0 | 0 | 0 | 0 | 0 |
| p | Lesiak,Alex | 0 | 0 | 0 | 0 | 0 | 0 | 0 |
| p | Williams,Jacob | 0 | 0 | 0 | 0 | 0 | 0 | 0 |
| p | Selvey,Colten | 0 | 0 | 0 | 0 | 0 | 0 | 0 |
| | Totals | 34 | 14 | 10 | 13 | 8 | 4 | 8 |
Batting
2B: Slone,Chase (1); Farmer,Will (2); Hand,Jake (1); Hutchins,Nick (1)
HR: DeMuri,JC (1); Hutchins,Nick (1)
Baserunning
HBP: Slone,Chase (1); Farmer,Will (1); Lambert,Greg (2)