Disabled Veterans and Elderly Property Tax Relief bill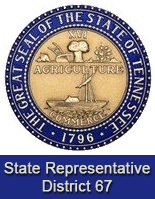 Nashville, TN – A bill designed to help veterans and other persons who lack health insurance at a free clinic operated on the site of an armory, is to be heard on the House Floor Monday, April 13th.

Sponsored by Rep. Brian Terry (R-Murfreesboro), this bill allows a licensed healthcare provider who is a member of the National Guard in this state to provide healthcare services to veterans and uninsured people.  It also allows the military department to permit the use of an armory as a site of a free clinic on a temporary basis.

The military department will be authorized to accept donations of medical supplies and services to assist the operation of a free clinic at an armory.

"I support this legislation and believe it will be a great help to our veterans, and those without insurance, to receive primary health care at no cost," said Tennessee State Representative Joe Pitts (D-Clarksville).  "I signed on as a co-sponsor along with 38 other members of the House of Representatives, and remain very hopeful this legislation passes," said Pitts.
"Save the Tax Relief Act" advances in the House of Representatives
House Bill 1197/Senate Bill 1336 is scheduled to be heard in the Finance, Ways, and Means Full Committee on April 15th, 2015.  This legislation, as amended, is proposed by the Governor and would make the following changes to the current law:
Fully fund the program for tax year 2014 with an additional appropriation of 7 million dollars.
Current enrollees would be grandfathered in.  Those who have applied in 2014 and continue to apply in the future will not be subject to the income cap.
Reduce the amount of property value that qualifies for relief:
Elderly/disabled:  $2,000 reduction in the appraised value that is eligible for relief: cost reduction of approximately 1.5 million dollars.
Veterans:  $75,000 reduction in the market value qualifying for relief.  Changes would bring elderly/disabled and veterans caps nearly into line (c. $100K Market value for veterans)
Institute an income cap on veterans eligible for the program:  $60,000 income cap to be eligible and cap includes the income to applicant and spouse, as well as to any other owners of the home.
This legislation is scheduled for the Finance, Ways & Means Full Committee on April 15th and if it passes, it should be on the floor of the House by Friday, April 17th or before.
"I am opposed to this proposal in its present form," said Pitts.  "While we have to be fiscally responsible, I believe we owe veterans that are 100% disabled the assistance we promised, as well as future veterans who may return from the current world conflicts with life-altering disabilities.  This legislation will also affect the elderly on fixed incomes.  This is changing the rules in the middle of the game.
House Bill 803/Senate Bill 368 cleared two more Hurdles in the House
House Bill 803 expands the law passed last year regarding the waiver of the skills test portion of the commercial driver's license (CDL) test for those in the military.  Last year, legislation was enacted to allow military service members to apply for a waiver of the skills test if they had a military CDL and their home of record was Tennessee.
The current bill would allow military service member to request the waiver if their home of record is anywhere other than Tennessee but they are residents of Tennessee.  "We have many members of the military remain in Tennessee upon completion of their military duty," Pitts said. "This measure will address a shortage of commercial vehicle drivers and aid in helping veterans find employment."
It is scheduled for the final House vote on Monday, April 13th.
If you have questions about the above or other issues of concern, please call me at 615.741.2043, or email me at
Sections
Politics
Topics
Brian Terry, Commercial Drivers License, Healthcare, House Bill 1197, House Bill 803, Joe Pitts, Murfreesboro TN, Nashville TN, National Guard, Save the Tax Relief Act, Senate Bill 1336, Senate bill 368, Tennessee, Tennessee House of Representatives District 67, Tennessee State Representative, Veterans