APSU Sports Information

Owens Crossings, AL – If not for several missed putts, Austin Peay State University women's golf team easily could find itself in the Top 5 after Monday's first day of the Ohio Valley Conference championship, being played on The Robert Trent Jones Trail course at Hampton Cove.

Still the Lady Govs sit tied for sixth place with Morehead State after shooting a 313 on an extremely muddy and windy conditions on the par-72 6,050-yard layout.

Jacksonville State rallied late to shoot a 301 and sit in first place, one shot ahead of Eastern Kentucky. Tennessee Tech is in third (304) while Belmont is in fourth (306).

"I thought we did a lot of things very well today," APSU coach Sara Robson said. "It played really long and windy—the winds late in the day began to swirl—but we didn't let it bother us. They adjusted to the conditions.
"But we just missed a lot of putts today. We need to get a little better handle on the correct speed for the correct break. We would hit them too hard with the break we were playing and lipped out a lot of putts. We need to play less break and keep them firmer or hit them a little bit easier and play the break better. That's a person-to-person preference before we play tomorrow."
The Lady Govs' No. 1 and No. 5 players, Jessica Cathey and Kelsey Schutt each shot 77s to sit in 12th place after Day 1.
Cathey's score would have been lower if not for No.6, Cathey's approach shot on the Par 4 sailed over water, but landed on a steep hill. Even with the soggy conditions, the ball rolled back into the water. After taking a drop and a chip to the green, Cathey three-putted for a seven. She concluded the day with a birdie on 18 after a bogey on 17.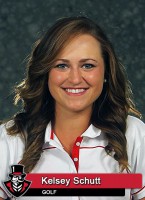 "Jessica did a lot of things better today than she has been of late," Robson said. "She hits some greens. She had the one tough hole, where she hit in the water and then compounded the problem with some missed putts. But she played more like Jessica today."

Schutt, meanwhile, had a pair of birdies but seven bogeys. She dropped a birdie putt on 17 but lipped out a par putt on 18. Schutt recently earned her way into the lineup with APSU's low score in Murray State's tournament and then rallied to capture the No. 5 position in last week's qualifier.

"I am really proud of Kelsey," Robson said. "She is not only hitting the ball, she is scoring as well. I don't know how many greens she hit the ball but she made a comment about the number of bunkers she found herself in. Her goal tomorrow is no bunkers.

"She had quite a few sand saves and a couple more where had she made the putt she would had a couple of more birdies."

This is the first OVC tournament for Schutt along with teammates Morgan Gardner (82), also a sophomore, and AnnaMichelle Moore (78), the Lady Govs freshman. Sophomore Morgan Kauffman, playing in her second OVC tourney, shot an 81.

"AnnaMichelle came in with a 78 and it's hard to guess how many putts she missed today," Robson said. "We didn't make many birdies (three) today and there quite a few out there. I think AnnaMIchelle had 10 shots that landed within 10 feet of the hole and she made one birdie.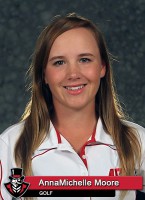 "She has some work to do, but with this being her first OVC tournament round she handled the nerves very well.
"Gardner handled the length pretty well. She is not the longest hitter but she does a good chance of getting up and down. She struggled on the first hole (double bogey), but her big numbers all came because of three putts. She is making the length work for her. I have not met anyone who can hit a driver straighter."
The second day of the 54-hole event will continue Tuesday, with the Lady Govs teeing off at 9:40am. They will be paired with Murray State and Belmont.
Box Score
2015 Ohio Valley Conference Women's Golf Championship
RTJ Golf Trl at Hampton Cove – 2015 OVC Women's Championship Par: 72 Yardage: 6050
April 20th-22nd, 2015
| Pos. | Team/Player (seed) | Round 1 | Total |
| --- | --- | --- | --- |
| T6 | Austin Peay State | 313 | 313 |
| T12 | Jessica Cathey (1) | 77 | 77 |
| T12 | Kelsey Schutt (5) | 77 | 77 |
| T17 | AnnaMichelle Moore (4) | 78 | 78 |
| T31 | Morgan Kauffman (2) | 81 | 81 |
| T38 | Morgan Gardner (3) | 82 | 82 |
Sections
Sports
Topics
AnnaMichelle Moore, APSU, APSU Athletics, APSU Golf, APSU Sports, APSU Women's Golf, Austin Peay State University, Belmont, Eastern Kentucky, Hampton Cove, Jacksonville State, Jessica Cathey, Kelsey Schutt, Lady Govs, Morehead State, Morgan Gardner, Morgan Kauffman, Murray State, Ohio Valley Conference, OVC, OVC Championship, Owens Crossings AL, Robert Trent Jones Trail Course, Sara Robson, Tennessee Tech