Austin Peay Sports Information

Clarksville, TN – Austin Peay State University's newest assistant basketball coach isn't new to the Governors at all, and certainly not to head Coach Dave Loos.
Jay Bowen, who served as the Governors basketball assistant in 2001-02, is back at APSU for a second time and a third with APSU's head coach. He replaces Bubba Wells, who resigned in early May.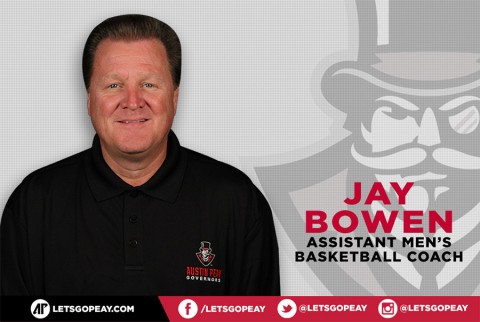 Bowen brings more than 30 years of coaching experience to the assistant's role and success seems to follow the veteran assistant. At practically every sojourn the team won or he helped prepare them to win the following season. He spent the past season as Division II Delta State's assistant.

"Jay and I have worked together at two different stops along the way, including Austin Peay," APSU basketball coach Dave Loos said. "He has great knowledge of the game. He has strong recruiting connections in areas that are important to us.

"Jay also has great organizational skills and is good with detail. Coach Bowen also does well with player development and scouting.

"Jay and I have always have been on the same page. We are excited to have him back at Austin Peay."

Bowen most recently was at the Division I level as assistant coach at Chattanooga in 2010-11, helping UTC to a Southern Conference North Division title. He left that post to serve as athletics director and head boys' basketball coach at Cambridge Christian Academy in Tampa, Florida, for three years, where his team achieved a Top 10 ranking each year.

Prior to UTC, Bowen served as an assistant coach at Tennessee-Martin for two seasons (2008-10). The Skyhawks won their only Ohio Valley Conference championship (2009) while Bowen was there. He helped coach three future professional athletes, including one NBA draft pick. Bowen also signed the OVC Newcomer of the Year.

His coaching career began at Christian Brothers University, where he was the assistant men's basketball coach and head junior varsity coach from 1984-87 under Loos.

Bowen left CBU and became the assistant men's coach and head cross country coach at Armstrong Atlantic State University of the Peach Belt Conference from 1987-88.

Following Armstrong Atlantic, Bowen was a graduate assistant men's basketball assistant coach for Ole Miss from 1998-89 before serving as East Central Community College (Decatur, Mississippi) head men's coach from 1989-91. Bowen earned Mississippi Junior College Coach of the Year honors during his ECCC tenure. Bowen later returned to the school in 1998 for a second tour as head men's basketball and men and women's tennis coach, signing eight future NCAA Division I student-athletes until his departure in 2001.

In 1991, he moved on to Georgia State University in Atlanta as an assistant coach and recruiting coordinator for five seasons. Bowen was promoted to the top assistant position for his final two seasons, handling the defense and implementation of the motion offense.  He recruited five professional players and four athletes that became future coaches during his Georgia State tenure.

Following his Georgia State days, Bowen was the head coach at Jackson Academy in Jackson, Mississippi, from 1996-98. He led the team to a 36-2 record and a Mississippi State title and was voted the Mississippi Coach of the Year at the Jackson school.

Bowen then make his first junket to Austin Peay in 2001-2002, helping build the Govs' two-time OVC champs, before returning to Ole Miss from 2002-2005. He was the Rebels' director of men's basketball operations from 2002-04 while also serving as head coach at Lafayette High School in 2004-05.

Bowen then moved to the women's coaching side from 2005-07 as associate head coach at Memphis and East Texas Baptist from 2007-08.  He is credited with recruiting the Conference-USA Newcomer of the Year at Memphis and mentoring two all-conference performers at East Texas Baptist before returning to the men's side at UT Martin in 2008-09.
Austin Peay Men's Basketball Assistant Coach Jay Bowen
Sections
Sports
Topics
APSU, APSU Athletics, APSU Basketball, APSU Men's Basketball, APSU Sports, Atlanta GA, Austin Peay State University, Chattanooga, Christian Brothers, Clarksville TN, Dave Loos, Delta State, Georgia State, Governors, Govs, Jackson MS, Jay Bowen, NBA, Ohio Valley Conference, Ole Miss, OVC, Skyhawks, Tampa FL, UT-Martin, UTC