Clarksville, TN – On Friday, July 31st, 2015, twelve Officers from the Clarksville Police Department graduated from 10 weeks of training at the Tennessee Law Enforcement Training Academy (TLETA).
The officers are Robert Steinmetz, Kevin Westover, Matthew Roederer, Andrew Henry, Steven Deering, Joshua Spain, and Ronald Cox, Tryesha Clark, Brittany Hubbard, Brandon Diez, Joshua Clegg, and Shandie Owenby.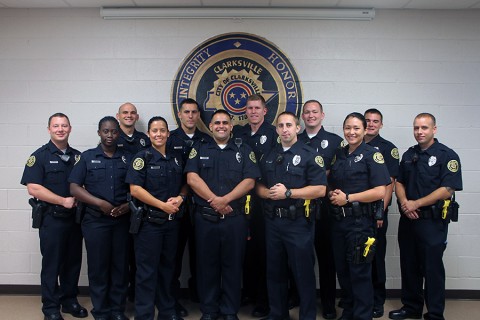 Officer Kevin Westover won the Physical Training Award. We want to congratulate all twelve Officers on successfully graduating the Academy and welcome them into 14 weeks of Field Training.
Officers straight out of Academy are trained by experienced Field Training Officers before they go out on their own.
Officer Kevin Westover