Clarksville, TN – On Tuesday, October 20th, 2015 at 3:40pm, Clarksville Police Officers were on a welfare check and found a woman bleeding from the mouth. It was later determined that she was shot in the neck.
This morning, October 21st, 2015, 23-year-old Maverrina Stanford from Nashville Tennessee was booked into Montgomery County Jail with the charges of Aggravated Assault and Simple Possession/Casual Exchange. Her total bond amount is $251,000.
There is no further information at this time.
If anyone has any information related to this incident, please call Detective Andy Hurst at 931.648.0656 Ext or the CrimeStoppers TIPS Hotline at 931.645.TIPS (8477).
Maverrina Stanford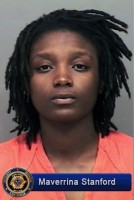 Name: Maverrina Stanford
Gender: F
Race: B
Address: South Hampton Boulevard, Nashville, TN
Arresting Officer: Andrew Hurst
Charges: Aggravated Assault, Drugs – Simple Possession/Casual Exchange
Booked Into: Montgomery County Jail
Bond: $250,000.00