Clarksville, TN – During a special alumni awards ceremony on Saturday, October 24th, Austin Peay State University honored six distinguished individuals as part of its 2015 Homecoming celebration.
This year's honorees were Outstanding Service Award recipients Maggie Kulback ('77) and Mike O'Malley; Outstanding Young Alumnus Award recipients Michael Wall ('00) and Chad Kimmel ('02); and Outstanding Alumni Award recipients Fred Landiss ('69) and Dr. Joe Greer ('70).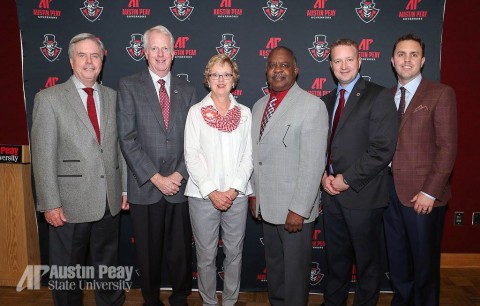 Kulback retired from Jostens in 2008, after 30 years of service, but she has continued a 34-year commitment to supporting her alma mater, Austin Peay. She graduated from APSU in 1977, having served as SGA president and having been elected First Lady of Austin Peay.
Once she graduated, Kulback became an active member of the Clarksville-Montgomery County community and a key donor to APSU. Kulback, along with her husband Barry, made a major gift pledge to the University during the 2010 Legacy Capital Campaign. In recognition of this gift, APSU named the atrium in the Maynard Mathematics and Computer Science Building the Kulback Atrium.
Over the years, she has supported the University as chair of the Candlelight Ball Committee, as co-chair of the Homecoming Committee, as co-chair of the 2010 Capital Committee, as a member of the APSU president selection committee, as a member of the APSU Tower Club and as a member of the APSU Govs Club.
Kulback is an alumna of Leadership Clarksville and the Citizen Police Academy, and she served on the budget committee for United Way and the Board of Directors for the Clarksville Chamber of Commerce. She chaired the Culture/Public Assembly Committee for Clarksville's 20-year Smart Growth Plan, and she was past school board president for Immaculate Conception School.
O'Malley, an Air Force veteran, earned his college degree from Ohio University, not Austin Peay, but when he moved to Clarksville in 1988, the successful businessman saw how important the local university was to the entire community.
O'Malley came to town to work for Wendy's of Bowling Green, KY — a franchise operating 18 restaurants. In 1990, he became a partner in the business and helped it grow to 42 Wendy's restaurants in four states.
He was inducted into the Wendy's Hall of Fame in 2010, and he became CEO and senior partner of Wendy's of Bowling Green in 2012. The company has been the recipient of all of Wendy's major awards, including the prestigious Founders Award, given to the top franchisee in the system.
During this impressive business career, O'Malley found time to support APSU in a number of capacities. He served as past chairman and current board member of the Austin Peay Foundation, as a member of the Foundation's investment committee, as a member of the Tower Club and as a member of the APSU Red Coat Society. He is a long time APSU Athletic Department supporter and corporate sponsor of the Wendy's Golf Tournament, benefiting the APSU golf program.
O'Malley has served Clarksville in numerous capacities, and in 2006, he was presented with the William O. Beach Citizen of the Year Award.
Wall joined the Comcast Corporation in 2006 as the director of State Government Affairs for Georgia, and he was promoted in 2009 to senior director of State Government Affairs for Georgia and Alabama. He formerly served as vice president of State Government Affairs for the Marietta, Georgia, firm of Brock Clay Government& Public Affairs and as an attorney in the Atlanta office of Hall, Booth, Smith & Slover.
Wall now represents Comcast's best interests and advances the company's public policy positions in Georgia and Alabama by working closely with the general assemblies, state agencies and departments, governors, other state constitutional officers, the states' federal delegations in the United States Congress and all of their staffs.
Wall earned a Doctor of Jurisprudence from the College of Law at the University of Tennessee in Knoxville, (UT Law) and his Bachelor of Science degree in political science from Austin Peay. While at APSU, he was elected president of the Student Government Association. At UT Law, he served on the editorial board for the Tennessee Law Review.
Wall was honored by Georgia Trend in 2009 when he was named to its coveted "40 Under 40" list for the State of Georgia. James Magazine twice (2008 and 2010) named him as one of Georgia's Top 10 Lobbyists for Associations/Corporations.