Clarksville, TN – The City of Clarksville held the grand opening of Christmas on the Cumberland Tuesday night, November 25th at McGregor Park. Hundreds gathered on the bank of the Cumberland River to listen singing and to see the lights come on along the riverwalk.
There was even a visit from you know who.
Rossview High School choir got things started at 5:30pm with a selection of Christmas Carols. They were even taking requests from the crowd. Rossview Band members also played a few instrumentals.
The Acro Dance Express showed off their dancing skills next. Groups of young ladies performed different dance routines to the delight of the audience.
Then it was time for Clarksville Mayor Kim McMillan and guests, the Channel 4 News Snowbird, Mrs Claus and Santa Claus to flip the switch turning on one million lights along the Cumberland.
Afterwards, children lined up at the McGregor Park Museum area to see Santa Claus and Snowbird. Others began strolling down the riverwalk enjoying the lights with family and friends.
Food and drink was available for purchase from Waffle Time Food Truck.
"I look forward to this event every year. I bring the kids and my husband down to see the lights come on and then to walk around looking at the  different displays, " said ShaLanda Morris. "This is a really great thing Clarksville does for Christmas."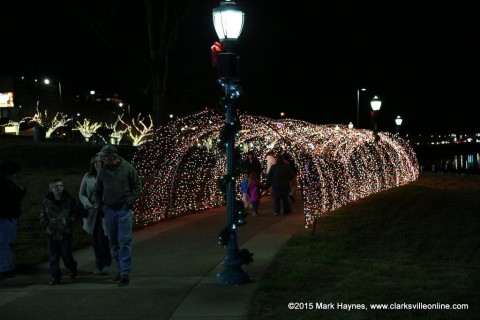 Christmas on the Cumberland will be open nightly from 5:00pm to 10:00pm, Sunday through Thursday and 5:00pm to 11:00pm, Fridays and Saturdays through January 3rd, 2016. Admission is free.
Make plans to come down to the McGregor Park RiverWalk and Museum and enjoy Christmas on the Cumberland and all of it's grand lighting displays. Christmas on the Cumberland is a truly unique holiday tradition for the Clarksville-Montgomery County area.
On December 12th and 19th, from 6:00pm until 8:00pm, there will be special free activities like holiday crafts, performances by local school and church choirs and dance groups.
For more information about Christmas on the Cumberland, please visit www.cityofclarksville.com or call 931.645.7476.
Christmas on the Cumberland Photo Gallery