APSU Sports Information

Clarksville, TN – A poor second half start again proved costly as Austin Peay State University women's basketball team fell to Middle Tennessee, 86-55, in nonconference action at the Dunn Center, Monday night.
Austin Peay (2-7) got off to a good start, making four of its first six shots to grab a 10-4 lead at the 5:34 mark of the first quarter.
Senior
Tiasha Gray
had five points to end APSU's game-opening run. But Middle Tennessee closed the period with a 14-4 run to take an 18-14 lead into the first quarter break.
Middle Tennessee (3-3) slowly expanded its lead in the second quarter, finally pushing its advantage to 10 points, 34-24, on Brea Edwards three-pointer with 2:37 left in the half. Austin Peay was able to keep its deficit from growing larger than 14 points, junior Syndey Gooch hitting a layup just before the horn to set a 40-28 MT halftime lead.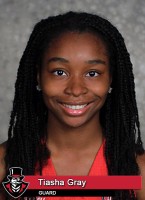 But as was the case in its loss at Indiana, Saturday, Austin Peay started the second half slowly while Middle Tennessee broke the game open. The Govs did not convert on their first six possessions while the Blue Raiders went 6-of-11 from the floor in a 13-0 run that pushed the deficit to 25 points, 53-28, less than four minutes into the second half.
Austin Peay was able to close to within 17 points, 57-40, thanks to a 12-4 run highlighted by a pair of three pointers by redshirt freshman Falon Baker. But the Blue Raiders closed the third with a 9-3 run and opened the fourth with a 5-2 burst to put the game out of reach with 8:29 left in the game.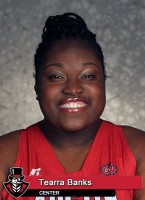 Gray led the Govs with a 13-point, seven-rebound, three-assist outing. However, she was held without a steal for the first time this season, ending a 45-game streak with at least one steal. Gooch and junior Tearra Banks each had nine points.
Edwards, who entered the game as the nation's 12th most prolific scorer, finished with 27 points after scoring 20 in the opening half. Junior Olivia Jones added 15 points.
Austin Peay, which played its final home game of the 2015 calendar year, begins a four-game road trip with a 4:00pm, Saturday contest at Western Kentucky.
Box Score
Middle Tennessee (3-3) 86, Austin Peay (2-7) 55
| | 1 | 2 | 3 | 4 | Total |
| --- | --- | --- | --- | --- | --- |
| Middle Tennessee | 18 | 22 | 26 | 20 | 86 |
| Austin Peay | 14 | 14 | 15 | 12 | 55 |
Middle Tennessee 86
Player
FGM
-FGA
3FGM
-3FGA
FTM
-FTA
OFF
-DEF
TOT
PF
TP
A
TO
BLK
STL
MIN
Brea Edwards
9-12
5-6
6-6
1-5
6
2
29
0
0
0
3
35
Olivia Jones
6-11
0-2
3-3
0-4
4
0
15
0
0
0
3
24
Rebecca Reuter
5-8
1-2
3-5
3-4
7
4
14
1
2
0
2
19
Alex Johnson
2-4
0-0
3-5
3-2
5
4
7
1
2
0
0
19
Ty Petty
0-3
0-1
0-0
1-1
2
4
0
1
2
0
0
19
Abbey Sissom
2-7
0-2
2-2
1-3
4
3
6
3
0
0
0
20
Tianna Porter
3-6
0-0
0-0
1-2
3
4
6
1
1
1
1
15
Gabby Lyon
2-4
0-0
1-4
4-0
4
1
5
4
1
1
1
18
Caroline Warden
1-2
1-1
1-2
0-0
0
1
4
2
0
0
0
18
Jordan Majors
0-3
0-0
0-0
1-0
1
1
0
1
0
1
0
5
Jess Louro
0-1
0-0
0-0
1-0
1
0
0
0
0
0
0
4
Katie Collier
0-1
0-0
0-2
0-1
1
0
0
0
0
0
0
4
TEAM
0-0
0-0
0-0
0-1
1
0
0
0
0
0
0
0
Totals
30-62
7-14
19-29
16-23
39
24
86
14
8
3
10
200
Austin Peay 55